Easy96 Review: Music is life. The most common status for whatsapp profile and Facebook walls of many youngsters. Why music is called as another form of life? Well, I am not going to explain that psychological behaviors but I am going to introduce one App which is worth having.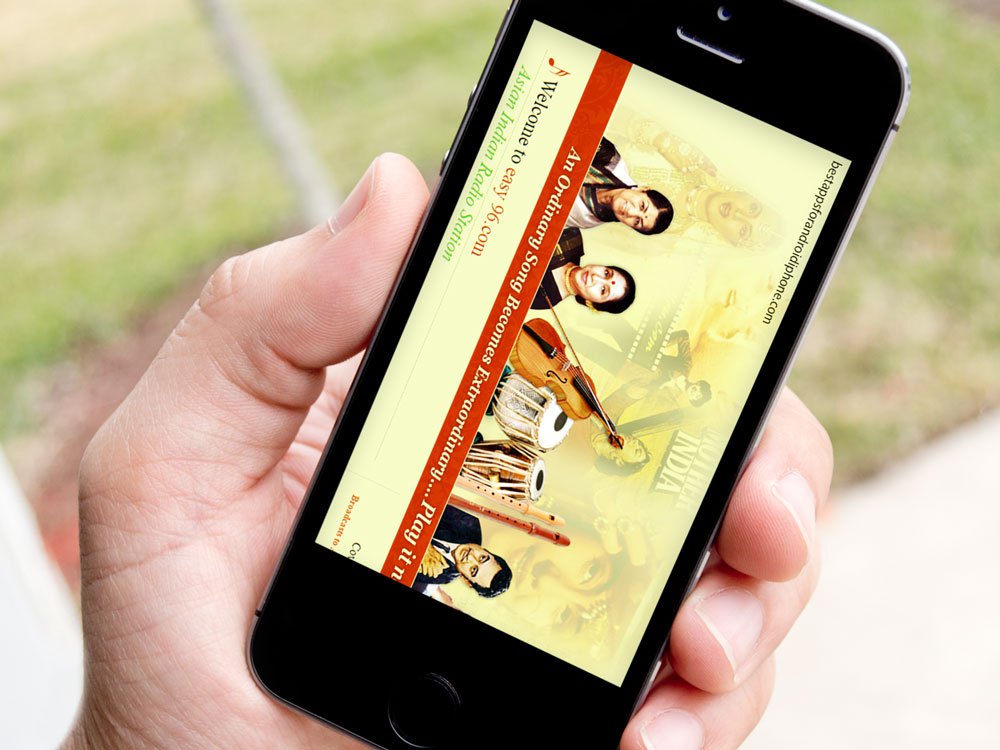 There are a massive numbers of apps currently present in the play-store. But which makes Easy96 unique is it is completely free. You will not asked by the app to subscribe or buy any additional package.
If you ask me why this Radio app? Then I have a sweet answer for you. Radio is the only tool which makes the long drive so easy. Sometimes the songs from your ipod fail to give you those exact feelings which the radio channel does. Also, at night radio become the most prominent tool. Not kidding. Many of the people used to listen radio while sleeping.
The app UI
The user interface of the app is very simple. The app developers and the app marketers have confirmed that simple but powerful apps have the capability to attract customers every day. Because they are pretty simple to navigate.
The Homepage: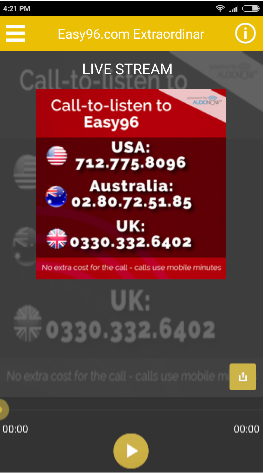 The homepage is very simple to navigate. It gives a interface which can easily be accessible by a 5 year old kid too. As a user, there are few kinds of logics behind designing the landing UI or say home user interface, and Easy 96 team really nailed it.
AS a music station image, they provide the contact information's from the countries   USA, Australia and UK. So, it saves lots of time to find the contact information of other communities of Easy96.
Homepage other features:
It has a dedicated play or pause button and you can track for how many times you are listening to Easy96 channel.  The seed bar is also looking awesome.
Along with that it has a share option below the channel holding. It's quite simple and easy to navigate.
At the top left corner there are sidebar navigation and at the right corner there is the about the app button. Which gives the app a premium features.
The Navigation bar:
The navigation bar has four most important features. Live stream, sleep timer, alarm clock and exit button.  The Sleep Timer and the alarm clock is one of the best features which makes easy96 app very smooth and different from others.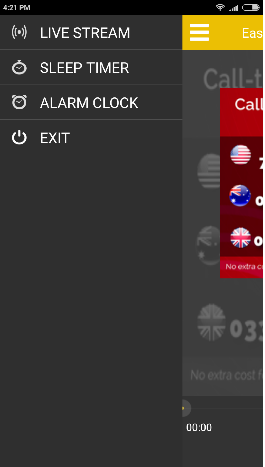 Sleep Timer:
There are two unique features which makes the easy96 app more solid. One is sleep tracker and another is alarm clock. We will talk about the alarm clock bit later.
The sleep timer provides the functionality to close the app after a desired period of time. While listening music through this app, you have the full control to make it off after the certain period of time.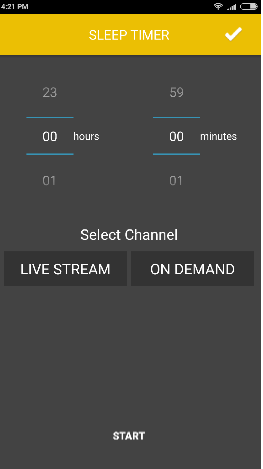 Alarm Clock:
This is not the alarm clock which is simply wake you up, or notified yourself that you need to do this thing. Basically, it's a reminder. But in Easy96's case its completely opposite. Well, there is not a very big difference with a typical alarm clock but as Easy96 is only providing Bollywood songs, it wakes you up with its own style. When the alarm raises, in the background it used to play the radio app. That is in the early morning, you can listen to your favorite Bollywood songs without even toughing your phone.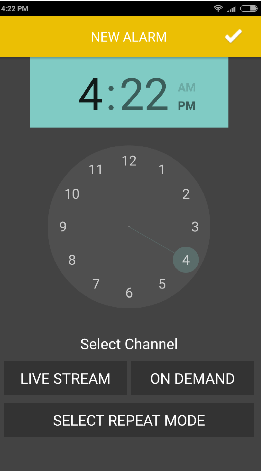 Exit Option:
This is a very simple option to close your application. But many of the application users don't know that some apps don't have this functionality. They simply run on background and consume data, memory and sometimes kill your prepaid balance too. So, in terms of full functionality, this app is the best app in the Play-Store.
The Information Screen:
For any kind of queries, there is a little information button. I have mentioned it earlier. The screen shoot is displaying over this content.
Well, along with the official information, Easy96 gives the social media sharing options along with visit to website, Email, and call button. This gives complete control to the customer and a healthy trackback system for the service provider. Sometimes, few apps don't reveal their real existences and users had to suffer a lot in certain cases. But Easy96 team is good enough to bring all the functionality right on the perfect screen.
What the creator says?
Easy 96 Radio broadcasts from the New York tri-state area to Asian Indians across the US – Online, on iPhones, iPads, Android and Direct Dial.
We have a strong following of regular listeners who turn to Easy96 for their every day musical entertainment.
Our corporate beliefs:
Our listeners and Advertisers are the most important ingredient to our success. We offer our listeners a string of carefully thought out, seamlessly structured and well balanced programming, all crafted from the annals of Bollywood music to the biggest hits of today.
We offer a good product and a large listenership to our Advertisers for a fair price, honestly and ethically.
Our Program Director, The Music Merchant, is an Award Winning filmmaker, record producer and on air radio personality. The Music Merchant has 36 years of media, broadcast and radio programming experience and a large fan following in the US with over 37,960 hours of on – air broadcasts.
The Easy96 Team has a combined experience of 100 years in broadcast, advertising and media.
Well, this is the belief about the Easy96 app. But now I want to share some of the most important features about easy96 app.
The audio steaming technology s provided by cirrus@ Mobile player and which is a very good media plug-in for android apps. Many other apps used this plug-in to play music and stream audio. This gives Easy96 a balance while streaming.
The user interface (we have already discussed) is very much simple but effective. Which gives tons of reason to love this app?
All the programs are run by RJ's from the studio. This gives extra ordinary impressions over his channel.
Song selection is quite good.
All the programs are designed very well.
Well, this is the reasons why you need to install the app. In my opinion, this is one if the best alternative of offline Radio.