In this blog post, we are going to talk about Payoneer. If you are somehow in the matter of online transactions, you may have also heard this name before. Don't worry if you even haven't heard about it before, as we are going to discuss each and everything about it from all beginning
So let's get started with Payoneer review.
What is Payoneer?
Payoneer is an online financial service basically known for online money transactions or transfers. It was founded in 2005 and headquartered in New York, USA. It is available in more than 100 currencies and in 200 countries all across the Globe.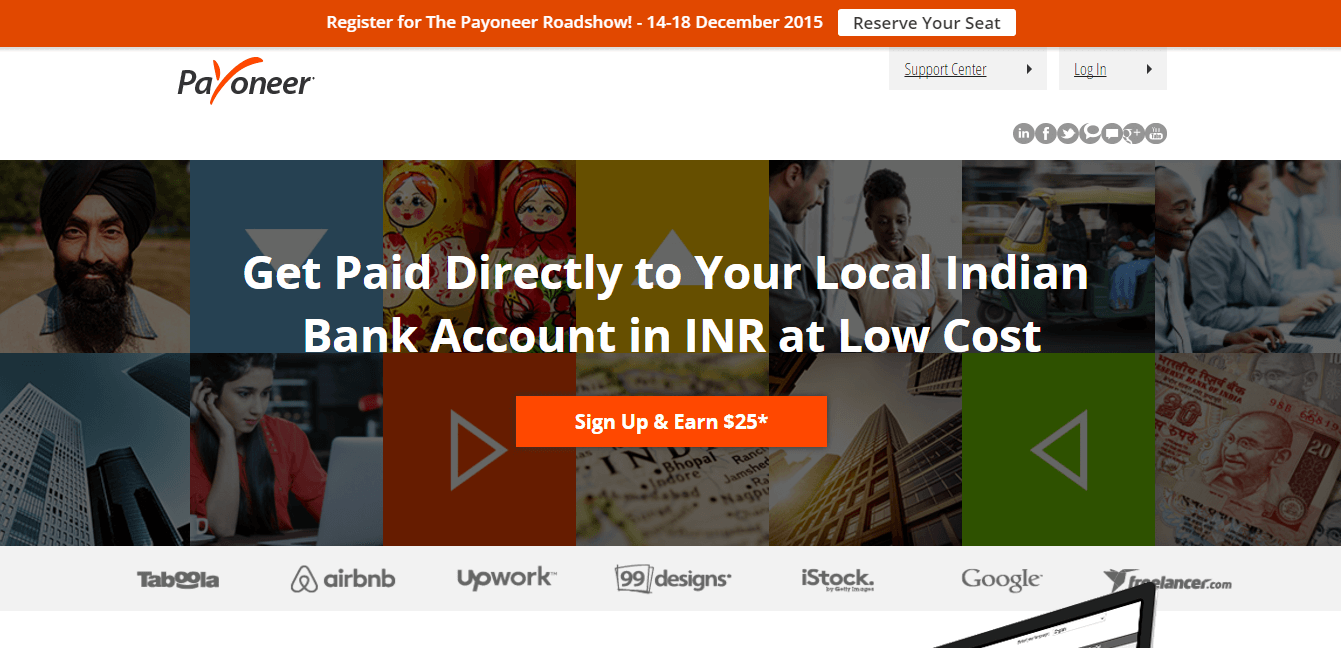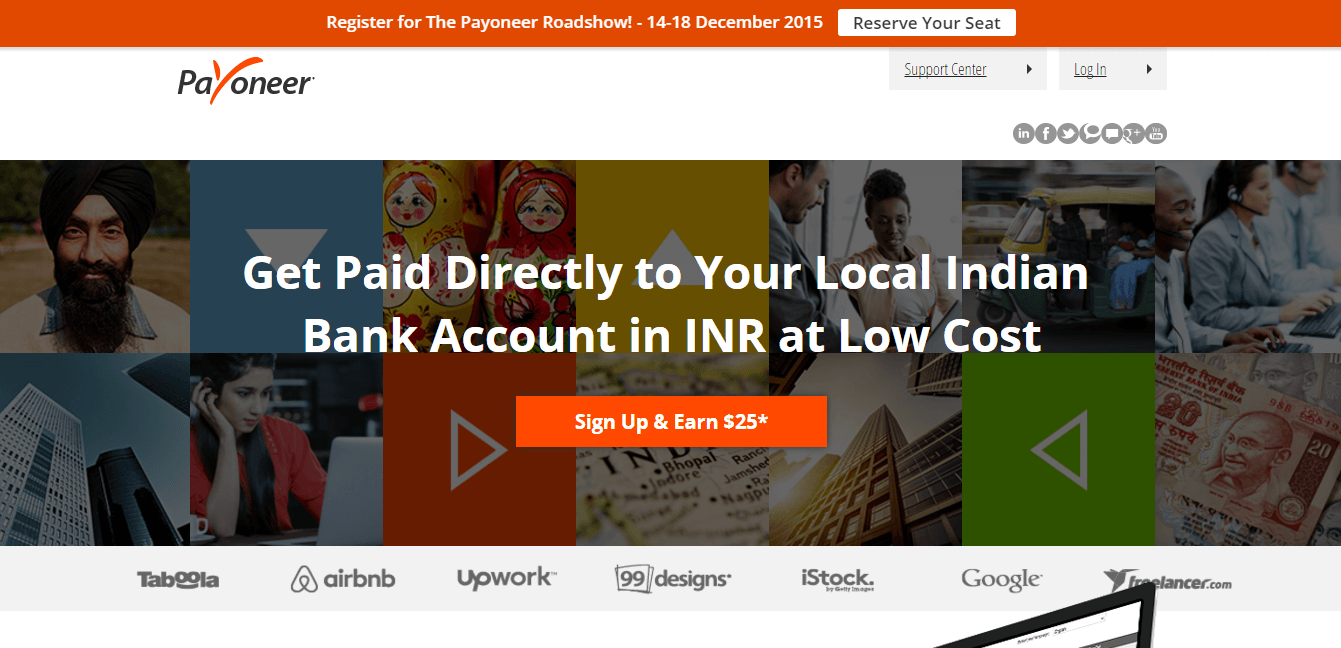 Payoneer is one if the Best services to receive money from various countries. It is possibly a very good solution for the Freelancers.
So, when will you visit the Payoneer's website it will be like as shown in the following screenshot.
Let us quickly discuss out the features offered by Payoneer in a quick view of the following list:
Feature 1. You can receive money from other countries quickly and the transaction costs are reliable.
Feature 2. You can get all of the money in your Local Currency.
Feature 3. The Advantage for Freelancers. Are you're a freelancer or hold a small business? Then Payoneer may work well for you. Freelancers can get all their payments using Payoneer easily and as we already listed, in local currency. (Maybe this works for to be get paid by the US and EU businesses)
Feature 4. Sign Up Benefit. Payoneer offers a reward offer for all those who sign up for it. You will get $25 to your Payoneer account on signing up with them, but the condition is that you will receive it only after once you have received the payment of $100 as well into your Payoneer account.
Feature 5. You can receive payments for free using Payoneer but you will be charged just a small fee of 2% for the currency conversion.
Feature 6. You can receive payments from the US and EU companies. Thus you'll also be able to receive payments from Affiliate Networks as well if you are in the business of Affiliate Marketing or Other kind of Internet Marketing.
Feature 7. You can transfer the balance of your Payoneer account to your Local Bank Account.
Feature 8. It is fast, flexible, beautifully designed and secure as well.
Feature 9. Offers Good Support and Help resources.
Thus, if we have to compile all of the features of Payoneer in short, we can say in simple words,
"Using Payoneer, you can receive money from various countries directly to your Payoneer account in your local currency at a low cost which can be transferred to your Local Bank as well."
Payoneer also offers some other features, which are described below.
Other people are checking Top 10 Grammar Checker.
Prepaid Master Card
You can use your Payoneer payouts using the Payoneer Master card registered with the name of payee and can make use of it everywhere where Master Card is accepted. Thus you can save your lot of time of transactions. The greatest feature of this Payoneer Master Card is that you do not required a bank account.
Global Bank Transfers
You can send funds using this service to various people all across the globe in 200+ countries and in 150+ currencies as well without any hassle of multiple banking systems by just using one Payment platform.
Branded Cards
Companies can apply for their Branded cards with Integrating with Payoneer. This service offered by Payoneer is already being used by many reputed companies.
Payoneer and You….. How can you get benefits as a Freelancer?
As I already explained as a Freelancer, Payoneer is a very Good option for you. There are many freelancers who are still looking for a complete solution to receive payments from different countries. They need to get into lengthy and un-friendly over-countries money transactional procedures.
But with the use of Payoneer, you can get rid of all such things!
You can easily get your payment from the different countries easily into your Payoneer account and then after in your local bank account and even it in your local currency. Isn't like a Joy of getting your balance without falling into any type of hassles?
As they are offering a debit card of thing their Payoneer's Prepaid Master card which freelancers can use to spend their received money of Payoneer account at ATMs or anywhere else. And the Best thing is that you do not required a Bank account for it as it is the matter of just you and Payoneer.
And even if you want to transfer Payment to your Local bank account for every payment transfer it charges you a very less free of $3. If you are going to transfer more than hundred dollars a time, then it is a good transactional fee kind of a thing.
Although, Payoneer offers so many features of the money transaction but in India, there are a few limitations listed below:
Every single transaction is limited to Rs. 5 Lakhs, You can transfer maximum of Rs. 5 Lakhs to your Bank account as well and the monthly transactional limit is Rs. 25 Lakhs.
But the limit is quite high, and hope it will not be going to affect most of the medium level freelancers and small business. Therefore, it is a beneficial service as a freelancer.
Do you know that Payoneer is already being trusted by a lot of Pioneer companies including Google as well?
Before writing up all this, I was researching about Payoneer that how it can be beneficial for the Indian freelancers and the online small business especially. It come to know that it may act as one of the Best alternatives of it PayPal. PayPal, we all freelancers or Internet Marketers is a very good service to send and receive money.
So why are you waiting? Sign up today to receive funds at best conversation rate.