The people who believe that they cannot be tracked on the internet should know that internet privacy is a myth. You are monitored by your ISP, the sites you visit, and sometimes by the intruder who has blocked your network security. Though internet provides a resourceful stuff to all the users around the world, it is still not safe to access it without any added security. I am not talking about the antivirus program as an additional security. The added security can be a secure firewall on your network or it can be a VPN as well.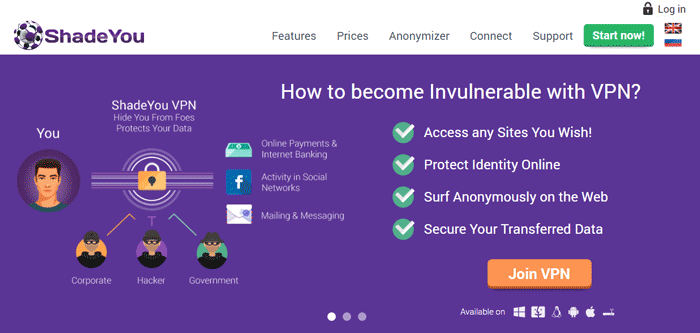 You must prefer a VPN as it comes with some added benefits. You can easily surf through the web anonymously and access just any website that might be blocked in your country. A number of VPN providers are available on the internet, but you should always look for an affordable and secured VPN service. After a deep research, I have found ShadeYou VPN for all the users who love to protect their identity online and surf through the internet without getting caught. Let us go through ShadeYou VPN review and learn more about it.
ShadeYou VPN Review: Overview of ShadeYou VPN
ShadeYou VPN is a UK based VPN provider that is operating from Scotland. It is a powerful VPN service that protects you from internet spies, your ISP, and from anyone else who is trying to peep into your network. It masks your IP addresses with a dynamic IP address of the selected location so that no one can track your activity online. Moreover, it is a secured VPN whose servers are available at different locations around the world. You can select any of these locations and browse across the internet anonymously. Go ShadeYou VPN review to learn more about its features.
Ultimate Features of ShadeYou VPN
You will be shocked to know that more than 65% of the internet users are the victims of cybercrime. Nearly 600,000 Facebook accounts are compromised each day and more than 236 million identities are exposed every year. To protect yourself from any sort of cybercrime, ShadeYou VPN can act as an ideal solution for you. Check out some of the versatile features of ShadeYou VPN alongside.
Different Server Locations: It has 25 servers in 15 locations of the world. You can access any of these servers depending upon the choice of your location.
Easy to Use: It is a stable VPN provider that has got an easy to use user interface which helps the user to switch between different VPN servers in seconds.
Unlimited Bandwidth: It doesn't limit your speed. You can use unlimited bandwidth and stream the videos at ripening fast speeds. No matter how much traffic your server is receiving, the speed won't be compromised.
Several Protocols: It provides choices among different protocols. Some of the most popular protocols supported by ShadeYou VPN are OpenVPN (extra secure and most stable), LLTP (Universal and really fast), and PPTP.
Completely Anonymous: It doesn't store the user logs. Your browsing session remains completely anonymous and secure. Once you connect to its VPN client, your IP is masked with a new dynamic IP and no one can track your activity on the internet.
2048–Bit Encryption: It uses 2048-bit encryption to protect your personal data. Even a supercomputer would take millions of years to break the security key then forget about the normal hacker who is trying to steal your private data.
Compatibility: It supports different platforms including PC, Tablet, and mobile and works fabulously with different operating systems – Windows XP/Vista/7/8, Mac OS, Android, iOS, and Linux.
Support: You can expect the world-class support from ShadeYou VPN. It has a large FAQs section to help the users in case of any query. The user can even contact the support through email and get their queries solved within few hours.
The Setup
Setting up ShadeYou VPN VPN client is not at all a difficult task. Once you have purchased its subscription, simply download the VPN client compatible with your device and install it. You can even use the free-trial version for few days. Once you have installed its VPN client, follow the steps below:
Run ShadeYou VPN by clicking on its icon on the desktop.
Enter the username and password to login.
Wait for the connection to be established. Once you are connected to the VPN server, you are ready to go.
You can change the server location on your choice.
Click on 'Settings' icon on the bottom right corner of the VPN client. Here you can choose from different settings and click on 'SAFE' option to save them.
Once you are done, you can browse through the web anonymously.
Why should you be using ShadeYou VPN?
ShadeYou VPN is one the most powerful VPN providers that provides 2048-bit encryption key to protect your personal data. There are a number of reasons to use ShadeYou VPN. Some of them are as follows:
You can enjoy the content from just any country without worrying about the geo-restrictions.
You can encrypt your transferred data.
Protect your poor Wi-Fi connection or can use public Wi-Fi without a fear.
It provides high level of security (2048-bit encryption).
It is an offshore company.
It doesn't keep the user logs.
It is highly compatible with different devices and OSs.
You can connect to 5 devices simultaneously.
Pricing
You can use its free-trial pack for 9 days. If you are happy with its services, you can upgrade the plan. It offers two different plans to the users – Standard and Premium. You can choose to pay through different means including American Express card, VISA card, MasterCard, PayPal, WebMoney, Payeer, Bitcoin and few others.
The Bottom Line
ShadeYou VPN is a powerful VPN provider that provides an exclusive range of features to all its users. Moreover, it offers affordable VPN plans to the users starting from $2.16/month. You can enjoy using unlimited bandwidth and access any website without worrying about the geo-restrictions. It can be an ideal solution for all the users who are worried about the security. Start using it now!