Tenorshare iCareFone Review: iOS devices are certainly among the best products that are made. Apple is said to be a brand that is focused on creating user friendly devices. However, we all have faced problems and technical issues with our iPhones, iPads and even iPods. The performance can wear down once you use the device for some days. Tenorshare iCareFone is a revolutionary PC based tool that can boost the performance of your iOS devices. The company has made special efforts into knowing the problems that people face and they have successfully found the solutions to all of them. Read the full review to know about various aspects of the tool including the best features and other important details like pricing and compatibility.
What is Tenorshare iCareFone?
Tenorshare iCareFone is a tool that is specially designed to make the performance of iOS devices top notch. It is further segmented into 6 small tools that focus on key areas that cause problems in iPhones, iPads and iPods. Even when you update the operating system in your device, there are bound to be bugs that can cause a lot of issues in its correct functioning. iCareFone addresses all these issues and much more in the best way possible. The features of the tool make it quite effective in what its major purpose is.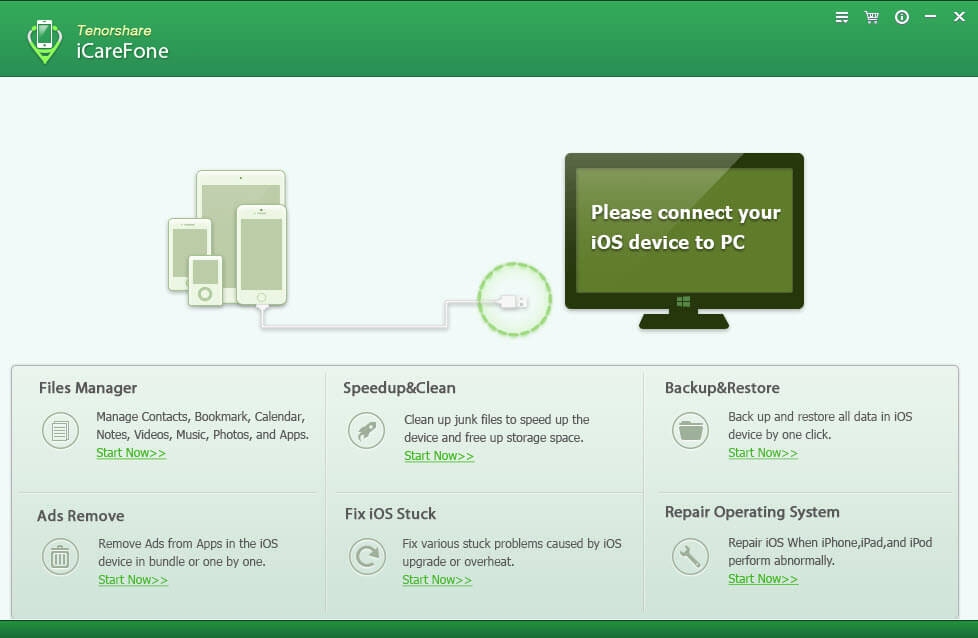 Tenorshare iCareFone Tool Compatibility
Tenorshare iCareFone is a PC based tool and is compatible with both the popular operating systems – Windows and Mac. However, the tool is not yet compatible with any phone devices which can be considered a setback for those who were wishing upon using it in their iPhones. Although the compatibility for desktops is justifiable since there are a lot of small tools inside the software which can be used in a better way through desktops. We can expect the software to be available in phone or tablet devices in the future. As of now, it is only compatible with Windows and Mac.
The system requirements are also quite basic and almost all the current generation desktop computers will be compatible with the software.
Features of iCareFone
There are hordes of different and useful features in Tenorshare iCareFone which makes the software a favorite of people who own iOS devices. Here are some of the core features of iCareFone listed in details:
Transfer Media Files and Apps
We all are aware of the iTunes restriction that we face while transferring music, videos and all types of apps. However, iCareFone makes it very easy for you to transfer files on your iOS devices to your PC for free. It also lets you manage 8 different type of files conveniently which includes Contacts, Notes, Calendar, APP, Video, Bookmark, Photo and Music. You can directly add files to your iOS devices and even delete the unwanted files right from your desktop. Moreover, the process is fairly very convenient and transferring files is quite simple through iCareFone.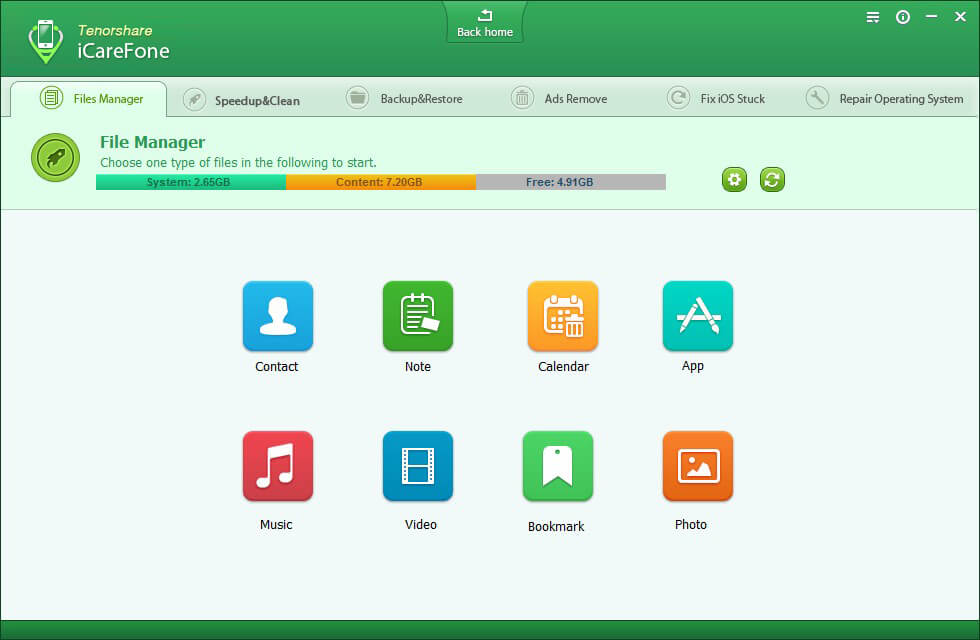 Improve Performance and Speed
It is quite frustrating to use a device that lags and slows down after some days of usage. With the help of iCareFone, the performance of your iPhone or iPad can be increased significantly. At times, the main reason for slow performance is the availability of storage space in your device. iCareFone lets you detect virus and junk files which will enable you to safely remove them. Doing this shall improve the performance of your device to a great extent. You no longer have to use a device that is slow just because you can do nothing about it, now you can.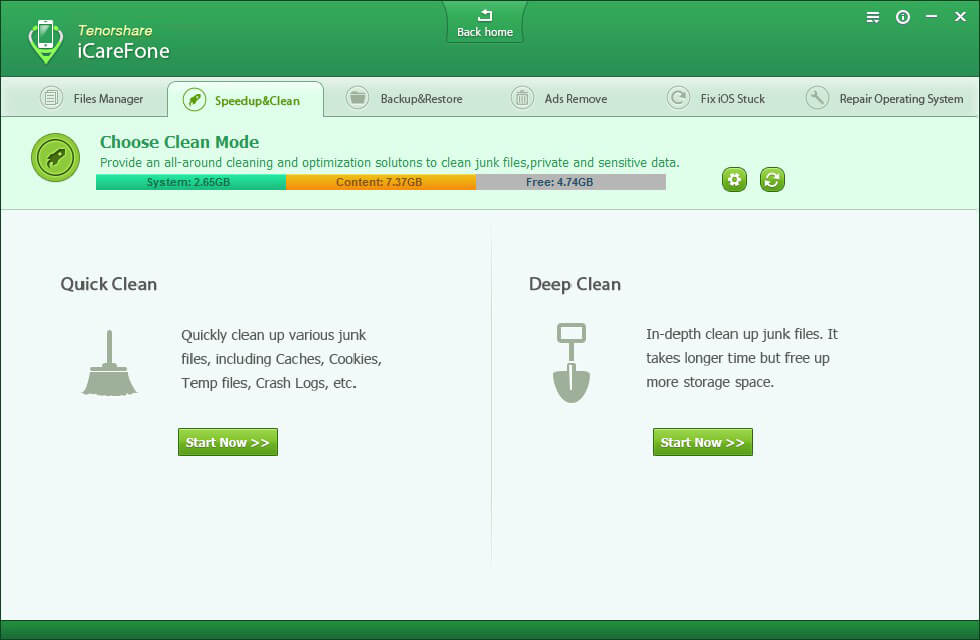 Fix iOS Upgrade Issues
Whenever you upgrade iOS on your device, you might have noticed some buggy performance by your phone. It can last up to many days until Apple officially pushes an update again but the experience can be terrible for days in between. With the help of iCareFone you can easily fix the issues relating to the upgrade of iOS. Sometimes your phone can also get stuck in between without any response even this can be fixed with the help of the tool.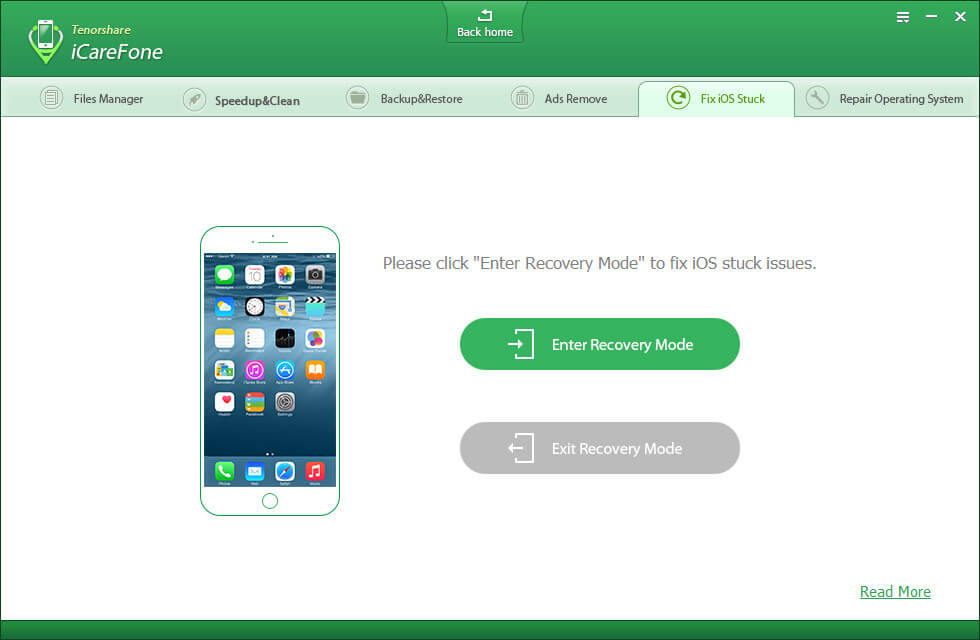 Compress Pictures
Like we had earlier seen, storage can be directly linked to lagging performance of your phone and easing up the memory can help you. With iCareFone, you can losslessly compress your pictures up to 70% which is absolutely stunning. This will be highly useful if you have a lot of pictures in your device. Most of the iPhone users use their phone as their primary camera and they are bound to have many pictures. You must definitely try and use the tool to free up space on your phone by compressing it.
Repair iOS System
Tenorshare iCareFone is the ultimate solution to all the problems pertaining with the iOS system. Sometimes you may experience that your phone is crashing more than usual and even rebooting takes a lot of time. These are indications of the problems that keep arising in iOS, thus you must use the software to tackle such issues effectively. Even if your system is damaged beyond repair, iCareFone will magically fix your device with its advanced technology.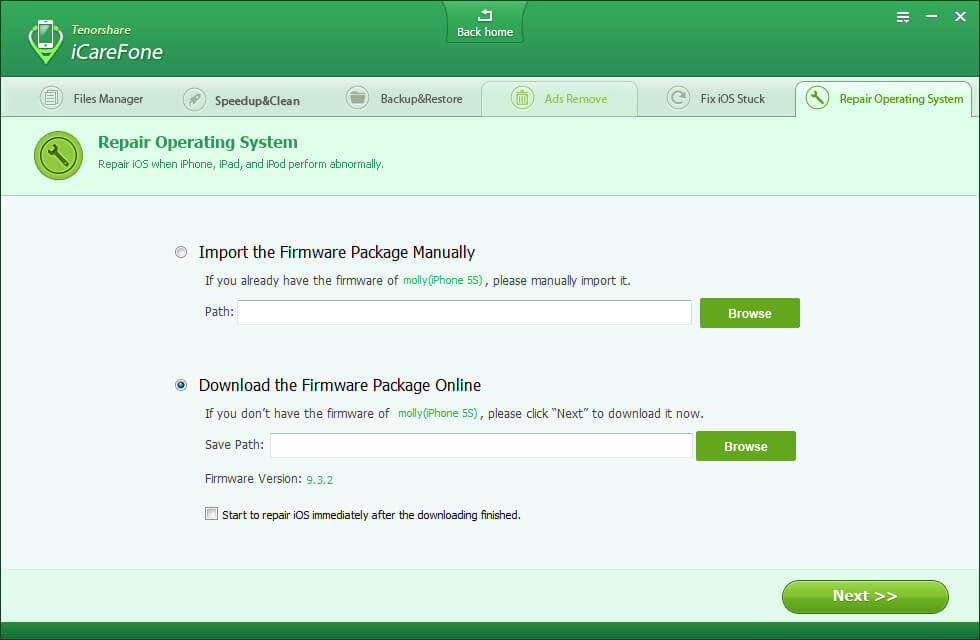 Backup your Data
Data is our biggest asset since technology has become so important in our lives. If you want to take a backup of any of your device, you can simply do it with iCareFone just with a few clicks. Moreover, you can also restore the previous data in case you have lost it. This backup tool that iCareFone provides is way faster than what iTunes is. Your complete iTunes library can be backed up in minutes without any hassles. It will provide you a list through which you can choose the ones for which you need a backup.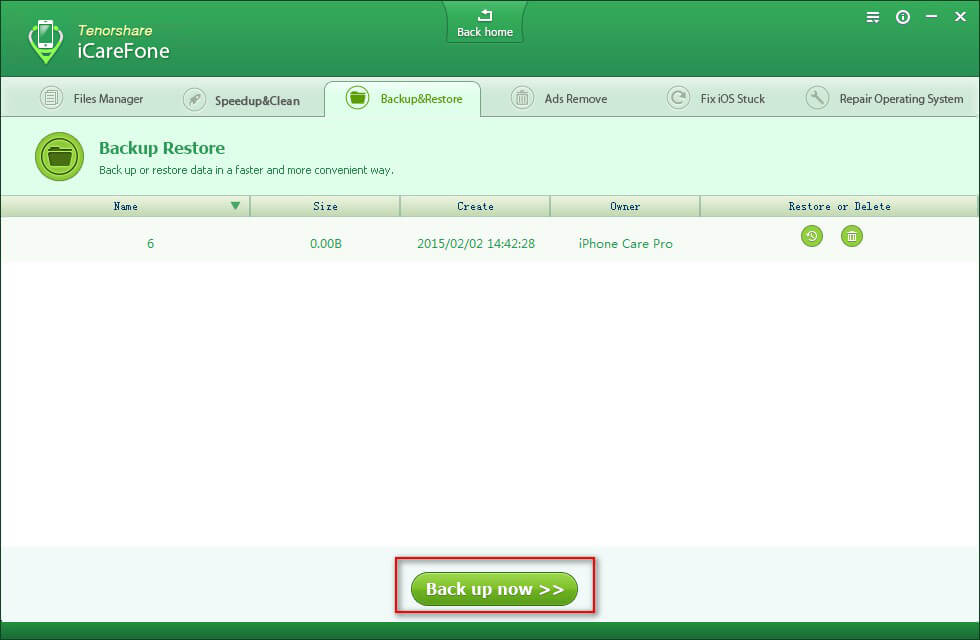 Block Ads from your iOS Devices
Nobody likes to see ads that come in between their app experience. However we have no option other than to watch or view those ads and waste time on them. Now with iCareFone you won't need to do any of this. You can simply block them with the help of the software. No app will be able to show you ads once you block them through iCareFone. You can block ads from almost all the apps, even the most popular ones including Pandora, YouTube and others.
Why to choose Tenorshare iCareFone?
Following are some strong reasons and benefits that will show you how useful iCareFone can be as a tool:
Instantly transfer all kinds of files from or to your PC and your iOS device.
Also acts as an anti-virus for your phone as you can check for suspicious malware and virus on your iOS devices.
Quickly compress all your images to around 70% of their current size to free up space on your device.
Block all type of ads that crop up in the apps that you use on your phone.
Easily backup the data in your iOS devices in case of any loss of device or system malfunctions.
Recover from operating system crashes without having to face any loss of data.
Increase the speed and performance of your device to a large extent with the features of the tool.
Pricing
There are two separate versions of the software and both differ in price. There is a free trial version available with limited features as well but if you need the complete package, the Pro version is perfectly suitable. Tenorshare iCareFone Pro is priced at $39.95 and it is a discounted rate from $79.95. If you are looking to completely revamp the performance of your iPhone or iPad, it is completely worth it to buy the Pro version of the software.
Support
iCareFone supports probably all the handheld devices that Apple has manufactured till date. Even though Apple has officially withdrawn its support for their old devices, you can still fine tune the performance of your old iOS devices with the help of iCareFone. The tool also supports the devices in any previous iOS versions until iOS 8. All the supported devices by iCareFone are listed as below:
iPhones: iPhone 7/7 Plus, iPhone SE, iPhone 6s/6s Plus, iPhone 6/6 Plus, iPhone 5s/5c/5, iPhone 4S, iPhone 4, iPhone 3GS.
iPads: iPad Pro, iPad Air 2, iPad Air, iPad mini 3/2, iPad mini, iPad 4 (iPad with Retina Display), iPad 3 (the New iPad), iPad 2, iPad.
iPod Touch: iPod touch 6G, iPod touch 5G, iPod touch 4G, iPod touch 3G, iPod nano.
Final Words
Overall, with some amazing features and benefits, it is a must have tool for all those who use iOS devices. If you want to get rid of all the issues with your devices from Apple, this is probably the best way to do so. iCareFone is a brilliant piece of software that will make your digital life so much enhanced and faster. Even the pricing of the tool is quite appropriate as it is available at a discounted price. It will support all your iOS devices as well as versions and is perfectly compatible with Windows and Mac. We strongly recommend you to get the software to have a great experience using iOS devices in the future.