iPhone data recovery software: Hi there, I already know couple things about you, like you've an iOS device and you're looking for a free iphone data recovery software? (No I'm not a magician, I just know that you're reading this piece now and you're here from a search engine, and you searched something related to iphone data recovery service which lead you here!)
Well then you're at the perfect place, I'm just compiling the list of Best iPhone Data recovery software 2016 in this article with in-depth research and review into them so you shouldn't have any problem getting your data back.
This list of the Best iPhone Data Recovery Software 2017 is compiled by me after extensive research offline and online about the tools and after getting insights into real customer reviews, so rest assured you can be sure that each of the following tools know what they're doing.
So let me start from the one tool I've personally used and am more than satisfied with. (Although feel free to check out each of these tools as you wish, I'm just starting with my own experience to help you better.)
Link: www.iskysoft.com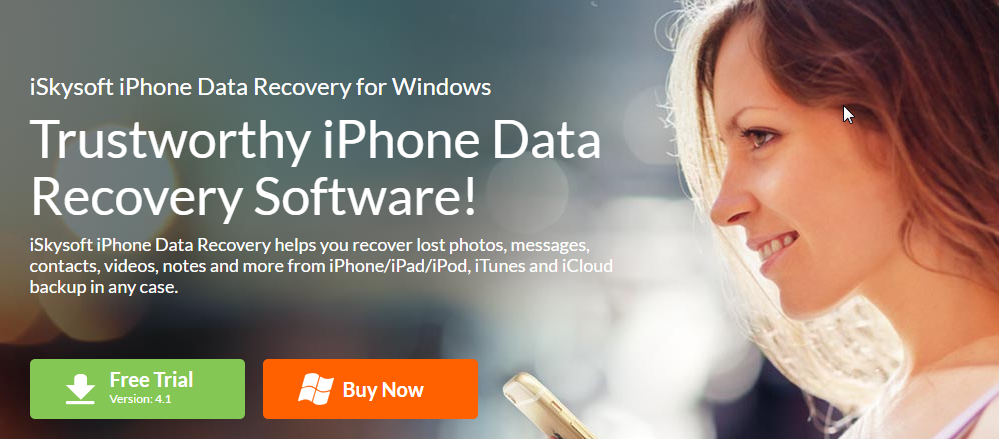 Now I'm mentioning iSkySoft at the #1 position of this Best iPhone Data Recovery Software 2016 list, does this mean it's "the best" tool out there?
Nope! That would sound so promotional and stupid, right? There are hundreds of tools out there and probably some better than it.
But the reason why I'm enlisting it here at #1 is, I've personally used this tool, and the combination of the features+pricing is reasonable + the overall service, support, user-experience etc fit perfectly well unlike some other tools which might offer more features (which might not even be needed) but cost a fortune.
Anyway let's get started.
What is iSkySoft?
As you might have guessed by now, it's a tool that recovers data from your iPhone for you and from what I've experienced, it's pretty good at what it does.
The recovery process:-
I'm pretty sure you've tried enough tools by now and are almost frustrated because even if the tools claim to work, the steps and process are no less than hacking into the pentagon.
Well with iSkySoft the first feature that was a green light for me was it's extremely simple recovery procedure. Infact it was easier than transferring music from a USB stick to my computer.
It's a three-step process:- Connecting the iPhone to my system > Scanning for Cloud backups > Restoring.

See? Can it be any simpler? I recovered 36 files on my device even before I knew what was happening, like literally I was waiting for something else to happen, some more steps to come up and ask me for permissions and stuff, well I was wrong.
Which Files can It recover?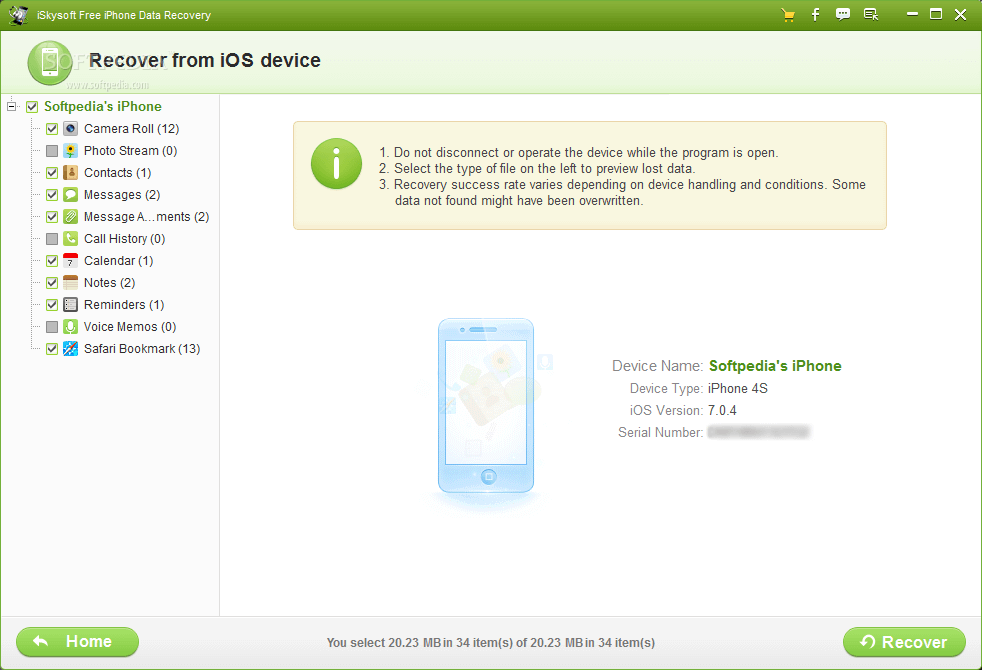 A legit question. So okay it's easy enough to use this iPhone data recovery service, but what are the files which can be recovered? It's no use despite being easy if it can't recover the exact kind of files you're looking for, right?
Let me tell you, just about "any" file type that exists on an iOs device can easily be recovered with iSkySoft Best iPhone Data Recovery Software 2016.
As this article is a list on Best iPhone Data Recovery Software 2016 let me list up the files types for you as well (you're getting addicted to lists aren't you?)
Contact
Messages
Camera
Photo Stream
Voice Mail
App Documents
Call history
and even NOTES!
And that's not all, I'm unable to list all the things you can recover but I'm pretty sure you're getting the idea of what's possible with iSKySoft right? (See? My love for iSkySoft was placed right wasn't it?)
What are the supported devices:-
Whenever you search on the internet for keywords like "iphone data recovery software free", another question that might be popping up in your mind is if your device is even supported?
That's the reason I'm calling this list Best iPhone Data Recovery Software 2017, because all the tools listed here really are "the best".
So ofcourse doesn't matter what kind of device you own, as long as it's iOS supported. But again I know it'll be easier if I list it down for you right?
The devices supported by iSkySoft are:-
iPhone 7/7 Plus
iPhone SE/6s (Plus)/6 (Plus)/5s/5c/5/4s
iPad Pro, iPad Air, iPad mini with Retina display, iPad mini, iPad with Retina display,
The new iPad, iPad 2 ,iPod touch 5,
iPhone 4, iPhone 3GS, iPad 1, iPod touch 4
See? Just about any kind of iOS device that was ever invented is supported by iSkySoft, another of the reasons why it's at the very top in this Best iPhone Data Recovery Software 2016 list.
Let's you Recover Files Even When You Can't Access the iCloud Backup:-
Another feather in the cap of iSkysoft iphone data recovery software is that, if due to some kind of problem you aren't able to login or access your iCloud backup, you still can get your data back.
That's possible because iSkySoft lets you download the iCloud backup data to your computer. And that's not all, you can even preview the data on your computer before bringing it back to life.
Some More Awesomeness:-
If you're still not sure why this little tool is the chairman of this Best iPhone Data Recovery Software 2016 list, let me give you some reasons.
Selective Recovery:- It's the feature where iSkySoft lets you select the exact files, music, contacts or whatever and then recover it, instead of pulling back all the garbage you had.
It's a normal situation when you want just maybe couple pictures back and not the whole album, right? You deleted them for a reason, so yeah now you can select exactly which files you want before recovering them.
Speed:- Another "yes" factor for me with iSkySoft is it's speed. I've been with quite a number of iPhone data recovery tools by now and I know for a fact that "scanning speed" is one of the issues thats persistent with almost all of them.
So when I tried out iSkySoft and the speed impressed me, I just thought I had to enlist it here in this Best iPhone Data Recovery Software 2016 list.
It features a "Quick-scan" mode, which scans your iPhone pretty deep for the files and data you might be looking for and returns with the results in minutes.
I know this one went a bit too long but hey I promised you a list of Best iPhone Data Recovery Software 2016, so it's not my fault if they're overloaded with features right?
Link: https://drfone.wondershare.com/
Wondershare is another of the tools I had the opportunity to spend some time with. It almost slipped my mind and I was thinking I could include only iSkysoft from my own personal experience, but nope wondershare came back to my thoughts at the right time.
Now Wondershare goes exactly with the name, it does wonders when it comes to iOS data recovery. It gets your data back from iTunes as well as iClouds backup.
So it doesn't matter if your cell phone is stolen, lost or broke, you can get your data back without a lot of fuss and you won't need the cell phone for it either. (So see? I've reasons to get it on this list of Best iPhone Data Recovery Software 2017)
What can you Recover?
I'm keeping the questions same in this Best iPhone Data Recovery Software 2017 list because ofcourse your goals are the same, recovering your data from your iPhones right?
So well if you ask the above question, all I can say is just like iSkySoft, you can recover about any kind of possible data, starting from
Phonebook,
MMS,
SMS,
camera,
videos,
music library
call history
and even Safari bookmarks.
So you're probably getting the idea that doesn't matter what kind of data it is, if it's digital and if it ever existed on your iPhone, this iPhone data recovery tool can get it back from the dead for you.
Worth Mentioning Features:-
Now that I'm including this tool in this list of Best iPhone Data Recovery Software 2017 , it's mandatory for these tools to have a little "icing on the cake" features, right? Something that makes them different, unique and really the best.
Preview:- Again alike iSkySoft, Wonder-share has this preview option where you can preview the files you want to recover before actually recovering them, this helps you recover only the necessary files and skip the unwanted ones.
Additionally the preview also helps you check if there is any file in the recovery section that you actually want to recover, a lot of times what happens is you're looking to recover a specific file, and every other file gets recovered apart from the file you're looking for.
So this preview feature alone was enough for me to include Wondershare in this Best iPhone Data Recovery Software 2016 list.
Recovering App Data:- Most iOS data recovery tools allow you to recover only hard-data, meaning only your files, photos, media etc.
But Wondershare also let's you recover the not-so-hard data, meaning your app data. This is data that you didn't manually save on your device, but it's still important to you and you need it.
And being honest, there aren't a lot of tools in this Best iPhone Data Recovery Software 2017 list which offer this feature, ofcourse iSkysoft does and couple other tools, but not all.
Anyway what I'm trying to say is, with Wondershare you can recover your data from Whatsapp, Facebook messenger, Instagram, and even Flickr.
Which iOS Versions it Supports?
From the very first version of iOS to the latest iOS 10, Wondershare doesn't discriminate, it supports any and every version of iOS out there that is. Enough reasons for me to include it in this Best iPhone Data Recovery Software 2017 list right?
Which Data Lost Scenarios are Recoverable?
If you're wondering that it can only bring back data if it was "lost", you're wrong. It has quite a number of different scenarios when it can bring back data even if:-
You deleted data by mistake.
Your device was lost /stolen.
Jailbreaking error.
iOS upgrade resulting to data loss.
Factory Upgrade issues.
And couple other scenarios. So in short, it can bring back data from almost any kind of data loss scenario so you needn't worry about that factor herein after.
The Recovery Process:-
So here's how simple the recovery process with this tool in this Best iPhone Data Recovery Software 2017 is:-
You plug-in your device to your computer > Choose the file types you want to recover > scan and wait. Done! It's almost like an artificial intelligence because after that everything is automated.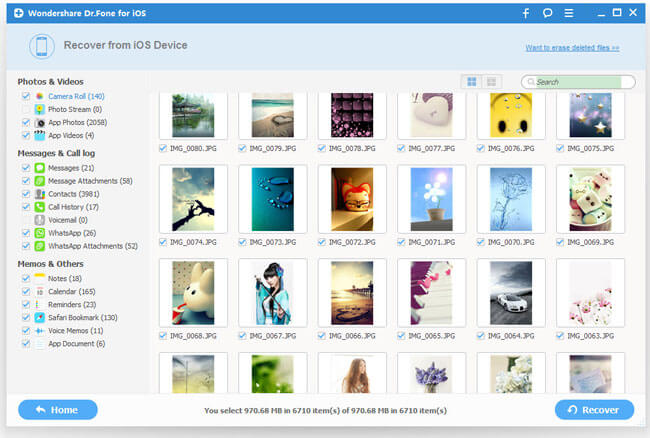 Once the scan is completed, you get to preview the files you want to recover, and if the files you're looking for are there, you just start the recovery.
Auto-Categorization:-
This is what puts them into the list with the "professionals". These minute attention to details are what make one tool successful and the other a failure.
They don't quit as soon as they've recovered your files, instead once the files are recovered, they actually auto-organize your files into separate categories based on their types.
Now this is greatly helpful if you're recovering hundreds of files, and being honest this again is a feature that not a lot of tools have implemented in themselves. Hence they ain't in this Best iPhone Data Recovery Software 2017 list, and Wondershare is.
Cons:-
Ofcourse not everything is a "positive' thing with Wondershare, and I believe in being honest with your if you're investing your time reading my article.
So hey the only "con" I could find as such was that not all the file types can be "previewed" before recovering, I mean most can be previewed, but still there are some files which you've to recover before you get a sneak peek into them.
So yeah that was how Wondershare is. And I believe even with this one so called "con", it still fits this bill of Best iPhone Data Recovery Software 2017 list.
3). AiseESoft's Fonelab:-
Link: http://www.aiseesoft.com/iphone-data-recovery/
AiseESoft is another contender up this Best iPhone Data Recovery Software 2017 list and a very deserving one too.
It's a complete iPhone data recovery solution and is no way lesser to the above two tools. I termed it a complete solution because it can recover data from just about any kind of iOS device, ranging from iPhone 4S to the iPhone 7.
The other devices it supports are iPhone 5, Iphone 5s, iPhone 6s/6s Plus, so you're getting the idea, aren't you? That all the devices are well-supported.
Which File Types can it Recover?
The second most important question that comes up to our minds when using any iPhone data recovery software is if it can recover the exact file type we're looking to recover. So well in order to answer that question let me tell you that you can recover:-
SMS
Notes
Photos
Call logs
Safari History
Videos
All and any kind of media.
In other words, 19 different kind of file types. And well that covers up almost every kind of iOs file out there.
Which Data Loss Scenarios Are Supported?
This is yet another point which made me list AiseESoft's Fonelab iPhone Data Recovery tool in this Best iPhone Data Recovery Software 2017 list.
Just like with the above two tools, you can recover data no matter how you lost it with this tool. The most common data-loss scenarios we come across and supported by this tool are:-
Jailbreaking Error.
Deleted by mistake.
Upgrade issues.
Corrupt / Virus attacks.
Factory Reset resulting in data loss.
So well basically, again it doesn't matter how you lost your data, you can always bring it back with AiseESoft iPhone data recovery.
Preview Feature:- Ofcourse a good iPhone data loss recovery tool should have this feature for sure, right? And only the best of them can get into this Best iPhone Data Recovery Software 2017 list. So ofcourse, AiseESoft has preview option too.
Meaning you again get to select the data before recovering it, that way you'll have an idea of what exactly you're going to get back.
Selective Recovery:- Again something that comes with the preview thing, you can preview the files, and then select the exact files you want to recover and not your 5 year old data.
Easy Interface:- Once you install the software, you get a clean interface with big tabs on the left-sidebar, where you can select the type of data you want to recover.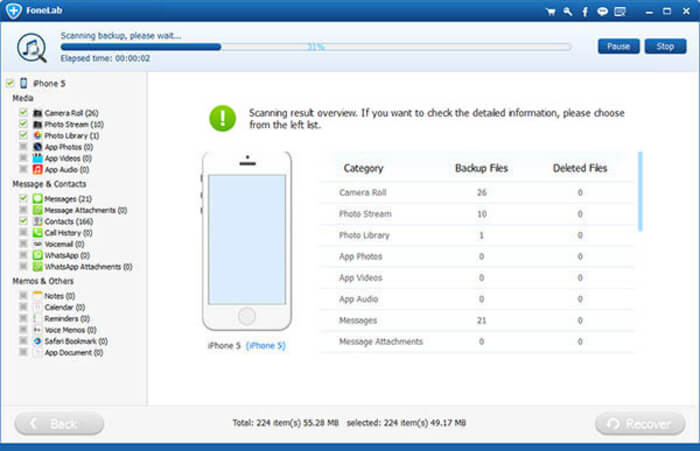 You can select if you want to recover the files from your device physically, (you can use it if you've the device with you).
Or if your device was stolen or lost, you can use the "recover from iTunes/iCloud" option to recover the cloud backup even without the device.
So well I'm pretty sure that if you're looking for a free iPhone data recovery software, this should do your job. (Yeah they do have a free version too, although with limited features!)
So that was all the time I'm devoting to AiseESoft's Fonelab in this Best iPhone Data Recovery Software 2016 list. You can uncover the rest of the secrets for yourselves can you not?
4). iMobie's PhoneRescue:-
Link: https://www.imobie.com/phonerescue/
Why iMobie made it up to this list is because of it's extensive types of files supported. It has the capability to recover over 22 different file types for your iOS devices including Photos, Videos, SMS, Internet Logs, Playlists, Contacts, Notes and what not.
And the second reason being, it's a free iPhone data recovery free solution(Atleast partially!)
Recover even Without the Device:-
Just like any other good iPhone Data Recovery software Free (as they've a free version too), this iMobie too lets you recover data if you don't have physical access to the device.
Meaning you can recover data from iTunes and iCloud without any hassle. The welcome screen itself features three options for you and you can choose how you want to recover your files from over there.
Recovery Everything from iTunes (Even Encrypted data)
The other really good feature about iMobie's Phone Rescue is that it doesn't make excuses, it has the capability to recover data from iTunes no matter what the case is, even if the data is encrypted, you'll get it back.
Comes in real handy when you're trying to recover voicemails and other audio data from iTunes and it's not something a lot of tools in this Best iPhone Data Recovery Software 2016 list can boast of.
HTML Format Saving:-
Another unique feature about Phone Rescue is that, it saves the data in a HTML format, specifically the Messages and call history.
Mac and Windows Compatible:-
Unlike a lot of other free Iphone data recovery software which are compatible only with either Windows or MAC OS, PhoneRescue takes both the leading OS into it's fold.
You can run PhoneRescue both on a Mac and a normal PC and recover your data.
Cons:-
Ofcourse a good review is never complete without the negative aspects of the tool, right? And most, if not all tools have it, so it's my duty to include it honestly in this list of Best iPhone Data Recovery Software 2016 right?
Long Scan Time:-
Yeah the scan time isn't exactly "quick". It does take a bit of time and if you're someone like me, you might get irritated and break your laptop much before you get a glimpse of your lost data.
So that was all I had on PhoneRescue, worry not I've still got quite a number of other tools out here for you.
5). EaseUS MobiSaver: Totally Free iPhone Data Recovery Software
Link: https://www.imobie.com/phonerescue/
I should've included EaseUS around #2 on this Best iPhone Data Recovery Software 2016 list. For the simple reason that it's a totally free data recovery for iPhone solution and because of it's extreme professional and hardcore approach.
Being honest, I'm already an EaseUS client, although I was in love with it's android data recovery tool, but now that I remembered of it, I went back and personally checked it's iPhone data recovery solution as well which I'm sharing with your right now.
Trust me, if any tool deserves to be praised more than it deserves (exaggerated), it's this tool.
Three-Step Recovery Process:-
The one feature that I'm in totally love with is it's extremely straight-forward and simple recovery process.
You just plugin your device > Scan the data you need > Recover. As simple as that.

Selective Recovery:-
Ofcourse how can a tool be on this Best iPhone Data Recovery Software 2016 list and not offer this feature, right?
So with EaseUS too you get to select the data before recovering it, so it ensures that you're recovering only the data you actually need.
And I think it goes without mentioning that the selective recovery is possible only with the "preview before you recover" feature, so ofcourse it hosts that feature as well.
Different Saving Formats Allowed:-
It's probably one of the rarest tools in the iPhone data recovery service market which actually lets you choose the format you want to save the data in.
You get to choose if you want to save you data in :-
All Data-Loss Scenarios Supported:-
Ofcourse needless to mention, if I'm talking so highly of EaseUS, it has this feature already right? It can bring back data from the dead in all the possible scenarios you can imagine of.
If you deleted data by accident, If your device had a virus attack, if your data was lost during factory reset, if you spill water on your device or anything else.
So in other words, the scenario doesn't matter, you're getting your data back.
Device Unlocking Feature:-
Another unique feature which makes me fall in love with this tool and made me include this here in this Best iPhone Data Recovery Software 2016 list is it's device unlocking feature.
Meaning if you lost your data because you set a pattern and forgot the password, well EaseUS can unlock your device for you and get your data back.
So apart from a data recovery tool, you can also use it as a password-unlocking tool for your iPhones.
Versions Supported:-
It supports almost all the versions of iOS including iOS 10.
Final Verdict:-
So hey I'm pretty sure this Best iPhone Data Recovery Software 2017 list was long enough and filled with enough tools for you, right?
Now I understand you might be confused with so many choices and options laid down for you. If you want my opinion on the matter, I'd say I've personally tried out and am happy with iSkySoft (the #1 tool in this list), so you can start there.
And if for some reason you still want to try out the other tools in the list, feel free to do so. All the tools in this list were chosen manually by me, so there must be a reason for that, right?
Do leave your comments and feedbacks in the comments section, it's always good hearing back from your guys.