OneVPN Review: Have you ever been intimidated by online identity theft? If you have a habit of using open wifi networks to access sensitive details like your banking account, you must be extra vigilant about this cyber crime.
What if you are a constant traveler? You can't always avail a proper private network. During such occasions, you must use an extra layer of security over your data traffic, called virtual private network aka VPN.
I will tell you more about VPN in the next section. This article is OneVPN review, where I scrutinize a well-known VPN provider.
OneVPN Review
OneVPN is a Hong Kong based virtual private network provider. In this OneVPN review, you will find out its features and how to use it for the first time.
But before we get into the core of this post, I want you to know the advantages of using a VPN service.
Advantages of a VPN
The following are the prominent advantages of using a virtual private network.
1). Maximum Online Anonymity
Sometimes, you want to stay anonymous online. You can't always do it because your ISP is spying on you. Moreover, your IP address will leak your identity as well.
In order to prevent all this, an effective VPN service fakes your IP and, fools your ISP (internet service provider) as well. In this way, no one will be able to know who you are and, what you are doing online.
But you must be extra vigilant in selecting the right VPN. In case the selection goes wrong, your anonymity will be at stake.
2). Unlimited P2P Access
Most of you use P2P (like torrents), don't you? In many countries, torrenting has been banned and, you may end up in jail if you try to access such sites as well.
What if you use a VPN to do so? As I said earlier, a VPN fools those who try to spy on you. As a result, they will never get to know your location. So, you can easily visit whichever site you want to visit, without any issues.
3). Surpass Geo-Specific Filters
Have you ever got a notice 'this service is not available in your country'? YouTube also has similar trait of limiting visitors from certain countries from watching specific videos.
In order to trigger such limitations, websites use geo-filters that sense your location and, shows a notice if it finds you are from a forbidden country.
A virtual private network gets rid of all such constraints. You can browse from any part of the world and, access any web content like a walk in the park. All it takes is a single click to establish the connection to a VPN.
I will tell you the particular features later in this OneVPN review.
4). Remote Network Connection
If you afford a private virtual private network, you can remotely access your home network. Many companies make use of this feature.
They setup VPNs and provide their employees with the credentials so that, they can take care of the work even if they are away from the company.
Moreover, the private network also gives you better performance. As I said earlier, the only hindrance for common people is its cost.
Still, you can purchase VPN services from different providers.
5). Enhanced Security
We all know different threats available on the internet. As you read in the beginning of this OneVPN review, the chances are your credentials may get stolen if you access sensitive data using an open wireless network.
Once you establish a virtual private network connection, it closes every security loophole leading to your privacy theft. In fact, you get the best-in-class security one can ever wish for.
VPN companies nowadays come up with a lot of personalized security features to give you the robust safety. All you have to do is taking that extra effort while selecting a provider.
6). Public Wifi Security
I know this is a repetition. Still, I couldn't help myself from sharing this here because public wifi security is one of the prominent features of a VPN.
There are a lot of blackhat websites available on the web. In case you don't know, a specific type of network called 'deep web' is present, which can only be accessed using specific tools like Tor browser. Efficient hackers available for hire there.
So, hacking into your personal details has become an easy task. You make it even easier by using a public wifi without any security measures. That's why a VPN fakes your IP and hides the identity to give you the maximum possible security.
Now that you have read the general benefits of a VPN in this OneVPN review, let's move on to the features of the particular VPN here (OneVPN itself).
Features of OneVPN
The following are the impressive features of OneVPN I found.
1). Multiple Servers

A large percent of people use VPN to surpass geo-filters. I know many services, which are available only in the US. In order to access such content, you have to fool the sensors and make it believe that you are actually visiting from the US itself.
Some other websites allow visitors from other particular locations. So, you need to have multiple locations in an ideal VPN provider. Right now, OneVPN has about 18 different countries and 30 servers under its belt.
You might have heard of services offering 100+ countries. Simply put, you don't need that much amount of servers. Almost everything is available for everyone on the web. A VPN provides a layer of security. In order to fool geo-filters you need a few servers, of which a US server is mandatory.
In that sense, you are getting a lot with OneVPN. They have more than one servers located in the US. And, you get VPN servers in countries like United Kingdom, Germany, Italy, France, etc.
In fact, you will never see 'not available' notice one you become a OneVPN customer.
2). Cross-Platform Support
We all use devices running on different platforms. It is not always possible to access the web using a computer. For the same reason, we use tablets and phones as well.
What if you want to check your net banking account via an open wifi network? The availability of devices will not create an issue that banking apps are available for free to download today. Still, an issue persists! Accessing your net banking account via a public wireless network is the biggest risk you do.
Chances are great for your details to be stolen! So, what you do?
You will opt for the VPN. Again, you must have an option to access VPN through your phone. That's why I told you to be extra vigilant while choosing a VPN provider. You should choose one with cross-platform support.
There are some services that support some platforms, but not all! What if I tell OneVPN supports every single platform and device?
Yeah, you have read it right! They run the OpenVPN protocol that can be used on any platform using a client.
Just sign up for a package, grab the VPN details and, plug it into the client. There you go! Isn't the exciting thing you read in this OneVPN review?
Of course, they have a native client (for Windows, Android and Mac). You can seek the help of other clients to use their service on other devices using OpenVPN protocol.
3). Supports Multiple Protocols
If you used a VPN service at least once in the past, you know there are multiple protocols on it. You have to choose the best one around in order to find the right balance between speed and security because not every platform offers both at the same time.
Let me give you an overview of the significant protocols.
a). PPTP:- Point to Point Tunneling Protocol aka PPTP is one of the oldest VPN protocols. Microsoft has integrated an inbuilt support for the same right from Windows 95. Not only Windows, but Mac and Linux also support it by default. Of course, it is speedy. Nonetheless, no one can guarantee the safety as security agencies cracked the protocol.
b). IPSec:- Internet Protocol Security or IPSec secures the entire traffic over an IP network. It authenticates the browsing sections and encrypts the data. IPSec provides online security in two ways. The transport mode secures messages in data packets whereas the tunneling mode secures the entire data packet itself.
c). L2TP:- You can't usually see a VPN provider offering this protocol alone. Mostly, L2TP is combined with IPSec to secure the connection. IPSec encrypts the data while L2TP creates a tunnel between two connection points.
d). OpenVPN:- If you ask me for the safest protocol, I can't help myself from suggesting OpenVPN. Being an open source protocol, OpenVPN doesn't need a dedicated client. You can connect to it using any client provided it offers manual configuration.
Brace yourself to read yet another enticing thing in this OneVPN review.
It supports all this protocols.
4). Strict No Logging Policy
In pursuit of cases, security agencies trace the activities of online users. Sometimes, it may create problems for those who access prohibited content. I have heard of a few VPN services that secretly log the online activities of its users and, hands it over to security agencies whenever demanded.
Yet, it is a joyous thing to realize that most of the VPN services don't betray their users. All the providers we reviewed so far follow a strict zero logging policy to keep you safe.
Similarly, OneVPN follows the no logging policy. They don't store what you do or who you are. All they save is your account details and payment information.
Moreover, OneVPN is a Hong Kong based company. Means, it is beyond the reach of any prominent security agencies. So, no one can get to them even if they want to.
There are many prohibited websites in every country. Chances are you end in jail if you get caught red-handed accessing them. In this sense, no logging policy is the best thing you read in this OneVPN review.
I hope you are enjoying this OneVPN review. You can use the comment section if you have any doubts regarding this topic.
5). Best-in-Class Privacy
I have already told you about the no logging policy. That means, you are getting good privacy there itself.
We all know there are attackers who have the capability to break any privacy barriers. But when it comes to encryption, not everyone can bust it.
OneVPN makes use of AES-256-CBC encryption. And, it has both 128 bit and 256- bit encryption types as well. You have to spend years after years to break such an encryption.
We all need privacy online, don't we? The main purpose of using a VPN itself is to maximize the privacy.
The lack of privacy is what we are afraid of when we browse the web using an open wireless network.
But you don't have to worry about privacy at all. I have already told you in this OneVPN review that they don't store your activities. Moreover, they encrypt the traffic in and out of their servers.
What else you need?
6). Inbuilt Ad Blocker
I personally don't hate harmless advertisements. Still, disturbing pop-ups and fake download buttons make me hate the complete website itself despite the quality of their content.
That's why people use ad blockers. The truth is you need to spend some real money to have an efficient ad blocker up in your sleeves.
So, I didn't use an ad blocker till date. Can you relate to this? Then, the following sentence in this OneVPN review is going to cheer you up.
OneVPN has an inbuilt ad blocker. Yeah, you heard it right! Once you establish the connection to any of the OneVPN server, no ad can break the great wall of it.
Right from the first second of establishing the connection, it will protect you from disturbing ads.
Unlike some ad blockers, it didn't create a pact with any site not to block ads from that particular one.
7). 7 Days Money Back Guarantee
Maybe, you are hearing the name OneVPN for the first time. And, you are skeptical about their service simply because you haven't heard of them. In this case, everyone will be reluctant to pay.
What if they give you a money back guarantee? Won't you go for them?
A money back policy is a time frame within which you can request for the refund in case you don't like a particular service.
OneVPN offers a money back policy with the duration of seven day. Hence, you can use their service for an entire week without any risk.
I hope you find this feature in this OneVPN review interesting.
I am very well aware of other providers with 30 days of money back policy. Still, the chances of scam usage are high for such a long period. That's why OneVPN settled for one week of money back guarantee.
8). 24x 7 Responsive Customer Support
Not every one of us is a geek. Obviously, a newbie user needs a helping hand in introducing everything to him or her.
Even if he/she tries to access the settings on their own, they will have doubts at some point. There comes the importance of customer support.
There is no point in having a dead customer support team. I have found some services which claim to have round the clock support but act exactly the opposite of that.
OneVPN provides 24x 7 customer support, I would say. You can reach out to them via live chat and email. For the quick doubt clearance, they have a knowledge base as well. You can refer to it whenever you want. Most of the common queries are given there with the answers.
9). Allows Simultaneous Connections
Most of us have multiple devices. In my case, it is Android and Windows. I know many of you have iPhones and Mac as well. Sometimes, you have to use more than one device at a time. The scene becomes the worst when you realize your VPN provider doesn't support concurrent connections.
In my point of view, simultaneous connection is a mandatory feature for a VPN service.
Get ready to read yet another impressive thing in this OneVPN review.
OneVPN supports up to three concurrent connections. Yeah, you heard it right! You can connect to OneVPN's servers on three devices at the same time.
I don't think you use more than three devices at a time that requires VPN connection.
Now that you have read the features, let us move on to the initial setup.
Must read: Best Proxy Server Sites List
Initial Setup and Establishing the Connection
I hope you read the features given in this OneVPN review. It's time to get into the action. You can follow the steps given below to sign up for them and establish the connection to their VPN server.
Step 1: First, you have to visit OneVPN website. Just click the button given below to do that.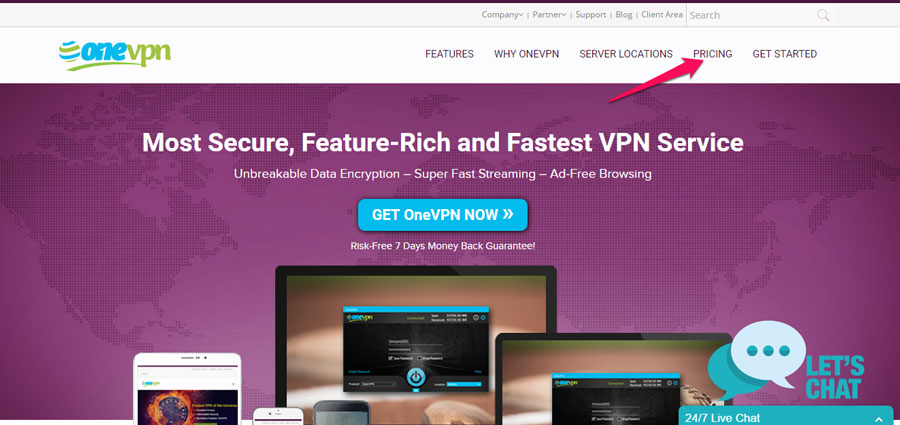 Step 2: There you can see a pricing section, can't you? As given in the image down below, you get three pricing packages. Most of the features remain the same for all the three packages. The difference lies in the price and duration only.
I recommend you select the second one as it gives you the best discount possible.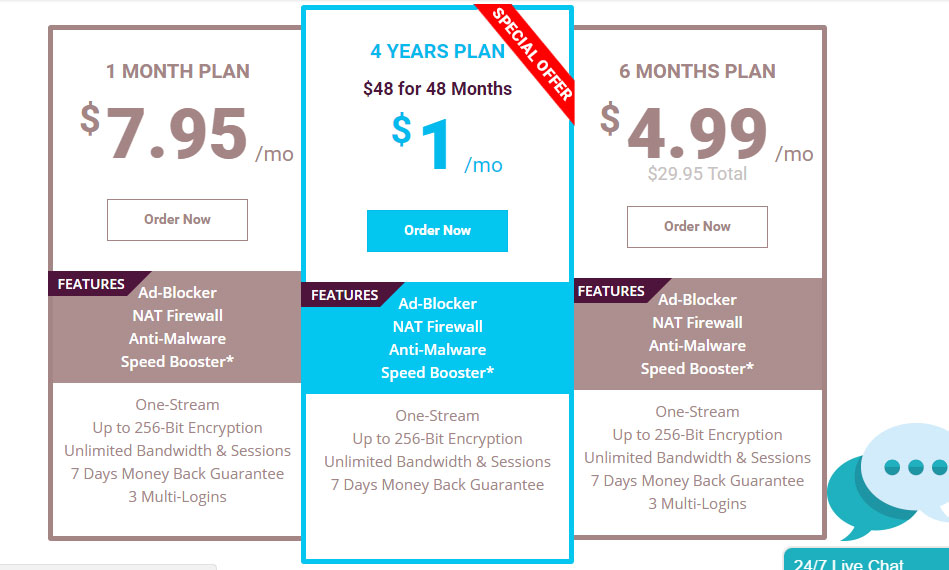 I hope you are enjoying this OneVPN review.
Step 3: Once you select a plan, you will be navigated to the bottom of the screen, where you have to enter your email, password and, the payment information.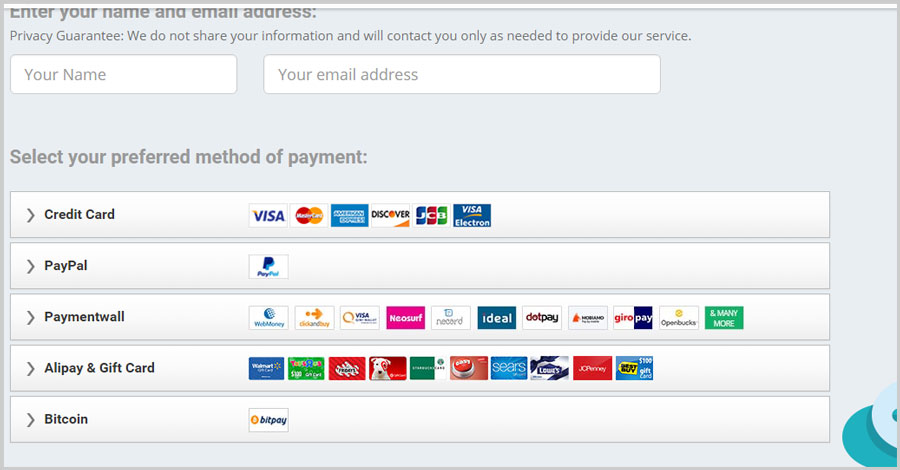 As you can see in the image, you get multiple payment methods to choose one that suits your convenience.
Step 4: After you send the amount successfully, you need to log into your account.
Just click on Get started on the second navigation bar.

Step 5: You will get multiple options there. Of course, the option for manual configuration is available. Here, I am going with the manual configuration. You have to hit on OneVPN download button to get the client.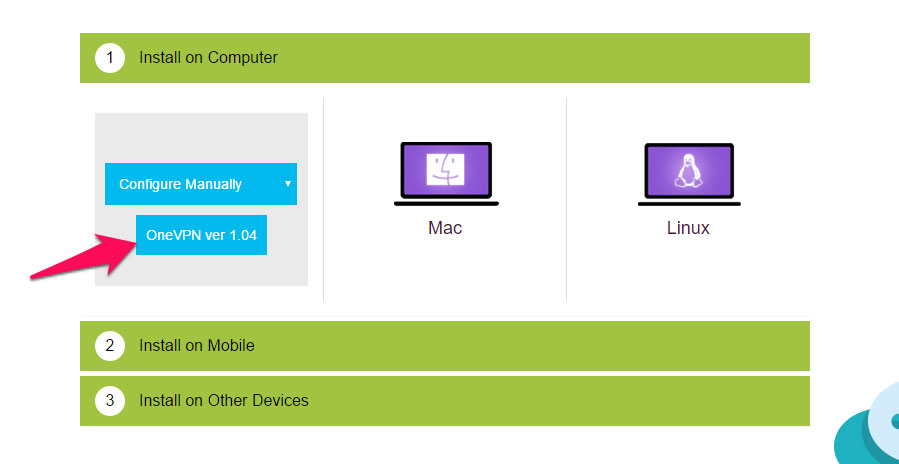 Step 6: You will get the download prompt for an executable installer file. In my case, it is slightly over 5 MB. So, it didn't take much time to get downloaded.
Step 7: Once it is downloaded, you have to open the same to kick start the installation.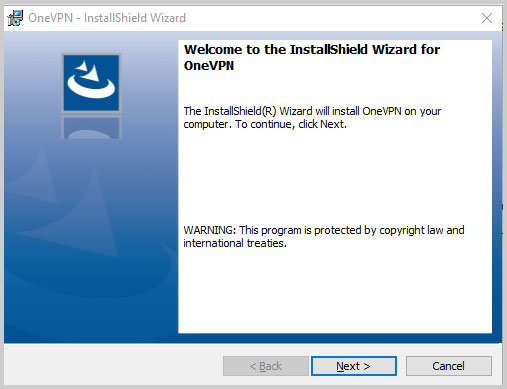 Step 8: You will have to grant the installer with administrator privileges. After that, it will extract the necessary files.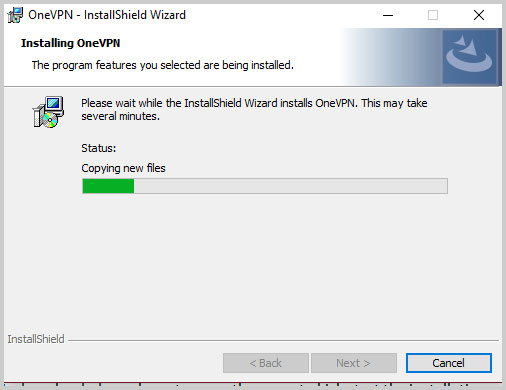 Finally, you can open the client right from the installer itself. Just tick the checkbox that says Launch the program.
Step 8: You have to give the administrator privileges again.
Once the program is launched, you may not see it in action on the screen. Just access the system tray to see it.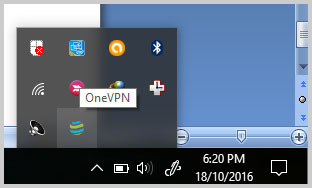 Enter your credentials you gave at the time of checking out. Username is your email address itself.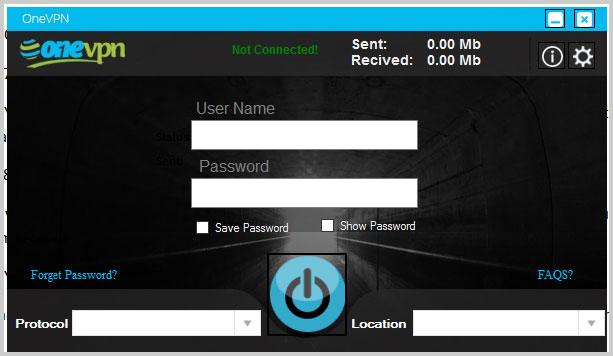 Then, you have to choose the protocol and location. In order to do that, just click on appropriate drop-down menus and choose one that suits you the best.
Finally, hit that power button in the middle of the dropdown menus.
You will get a notification that OneVPN is connected. There you go! You can now bypass any damn filters like a boss.
Wrapping Up OneVPN Review
So you have just finished reading my OneVPN review.
They have all the features of an ideal VPN provider. You can even use third-party clients to use their servers. On the first glance, you may not find anything fancy about them. In the long run, you will realize the quality of their service.
As they have a money back policy of seven days, I don't think you will lose something valuable in that period. Just get yourself out there and, enjoy the anonymity.
You may read: NordVPN Review
Don't forget to share this OneVPN review with your friends and followers on social media.