Second Date Ideas: Try out these great second date ideas and make your date enjoyable. So you have been through the first date, and there is a mutual liking for each other. Now comes the tough part "the second date" which can be a step forward in your relationship if planned properly. Of course, you found that the first date was simply spent in getting over your initial inhibitions, getting properly introduced and getting to know the basics about each other.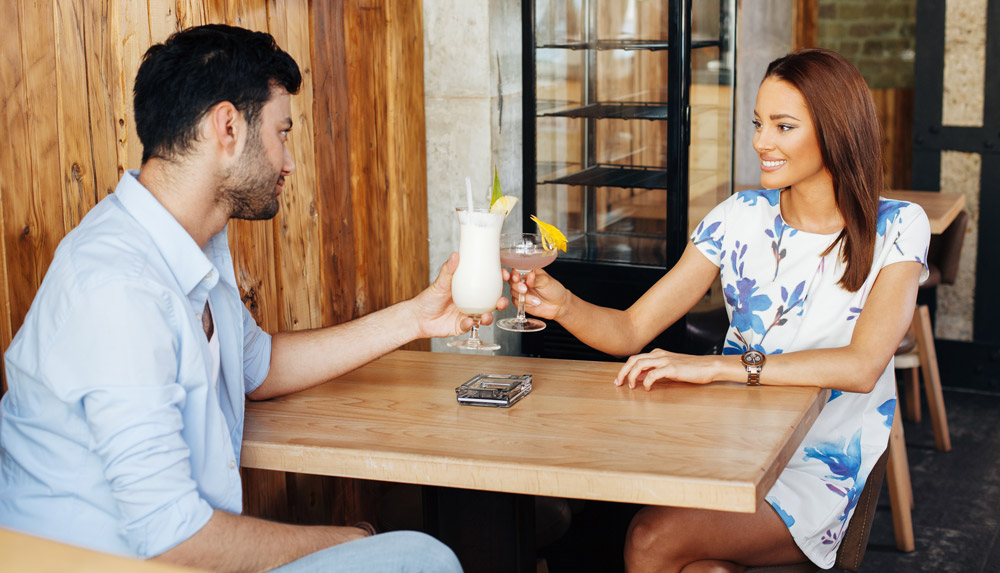 Now you are looking forward to the second date ideas because you now want to explore the other person and the relationship in depth. Well, this is the very reason that you need to think hard and come up with some great second date ideas which will ensure that you enjoy it and the company of your partner.
The second date should be such that it brings out the best of you and your partner and hence it should be more than a boring dinner or movie. Let us look at some great second date ideas which you will definitely enjoy with your partner.
50+ Second Date Ideas for You and Him to Get to Know Each Other
Bellow I am covering some very popular second date ideas, which mostly couple try on his second date, hope you also like bellow given second date ideas and will try on your second date.
1). Try an arcade even if you were not really hooked to Ms. Pacman in your childhood. This will be a fun-filled and interactive date bringing back memories of playing old school games.
2). Spending some time with nature is also a good way to nurture your relationship. You can take a stroll in the outdoors while enjoying some donuts.
3). Take a train trip to a close by the beach or historical monument which may be one hour away. You will get ample time to talk to each other on the way.
4). Staying at home and snuggling up to a cozy movie and pizza for two is also a good relaxing date.
5). You may pay a visit to the local shows to see some live musical performances depending on your mutual interests in music.
6). An adrenaline boost at a rowdy sports game will be quite thrilling. Even if you are rooting for different teams, it will simply create some innocent rivalry.
7). Playing trivia night at a bar is a good way to show off your knowledge of random facts and pop culture.
8). A stroll in the local botanical garden is more scenic than an average nature walk. You can settle on a bench outside and chat while enjoying some snacks.
if you are madly in love with your partner and want to make him miss you badly. Checkout these 15 ways to make him miss you.
9). Go bowling and pitch your talents against each other. Grab some beer and pizza to liven up the night and this is one of the more uncommon great second date ideas.
10). You can pick a museum that is suitable for the mood you want to create. It is a good idea to study up a little so that you can engage your partner with your knowledge.
11). Playing some mini golf before dinner to relive your childhood memories and make it less serious than a full driving range.
12). If you know, horse riding then taking a ride in the sunset is a great way to bond with each other. Even if you don't know the ropes, you can schedule a riding lesson.
13). At a farmer's market, you will get a range of tasting options to talk about and sample. You can add extra fun to it by rounding up some ingredients and cooking a meal together afterward.
14). Galleries are great if you two are art lovers and the photos or art create excellent subjects for conversation.
15). If you want something out of the box, then a ghost tour is a great idea which will suspend disbelief and get your adrenaline pumping.
16). A little rowdiness is a good thing, and this is the reason that you should try a burlesque show, but make sure that both of you are comfortable with the idea as this is not for the shy types.
17). Of course for this idea one of you needs to have some experience at sailing. If you do, then you can go on a leisurely boating expedition. If one the other hand you do not know sailing then you can simply hire a paddle boat.
18). Making ice cream can give you the perfect way to spark some sweetness between you and your partner and will take your memories back to more innocent times.
19). Snowboarding or skiing together is a good idea if you live near a ski resort. This is a fun way to get to know each other and show off the adventurous soul that you are.
20). If you want a creative setting and have a liking for animals, then a zoo or an aquarium will make an ideal setting. You can trade stories that you know about animals and fish while doing this and show off your knowledge.
21). Then again a little cultural adventure is also enjoyable especially if both of you are foodies. In this case, you should try some out of the way cuisine like Ethiopian or something like oysters that you need to shuck. This will show your partner that you are willing to take risks.
22). Few things are as exciting as navigating a corn maze. Although this is more for teenagers, even adults will enjoy the challenge.
23). Biergarten which means beer garden is a German cultural staple. This is a great way of testing your tolerance and trying something that is from a different culture.
24). Outdoor movies or a drive-in theater are one of the great second date ideas especially during the summer where you get the additional bonus of cheap snacks and healthy outdoor air.
25). Even if you don't believe in the occult it will be quite intriguing and exciting to find a gypsy and have your palm read. Although make sure that you don't ask any question about your love life.
26). Taking a picnic in the park is a tried and tested idea and sure to enjoy laying back in the sun, watching people and discussing them after you are done with the snacks and beverages.
27). Playing an outdoor sport is also a good idea provided both of you are reasonable good at the sport so that the game does not become one sided. Tossing a Frisbee at the park or around on a basketball court are both good ideas.
28). If the weather is cold, then you can get the fire going and make some more. This is very effective second date ideas in cold weather.
29). You will have more fun at a local dive bar than at a stuffy cocktail place. When you are done with the pool, you can opt for some foosball or darts.
30). Poetry readings are excellent if both of you are the literary type, but keep in mind that you need to have a backup plan if you need to slip out when the poetry is simply bad.
31). For a more intriguing summer date, you can hit a pool that stays open after sunset. There will be no kids and staying in the pool after dark can be quite exciting.
32). Remember Patrick Swayze and Demi Moore in 'The Ghost.' A pottery lesson may be just the thing to get the hormones going.
33). Renting bikes is another one of the great second date ideas whether you are in the city or the countryside. It is a great way to explore the places around you and get some exercise at the same time.
34). Roller skating is an activity which has withstood the test of time. It also gives you the opportunity to hold hands and grip onto each other when there is trouble in maintaining your balance.
35). A board game is a great idea when the weather is bad, and you don't feel like going out. A game of scrabble or chess can be great to bring you together.
36). Cooking a meal together is a great idea to show off your cooking skills. At the same time, it gives you a chance to bond together and have fun while you cook.
37). It is not necessary to go to a full blown amusement park with roller coasters to have fun. A carnival is just as good as it is a timeless tradition and is as exciting in real life as it is on the screen. Make sure to take in as many rides as you can if you really want to have fun together.
38). Laughing enables the secretion of endorphins and can set a great tone for the night. See a stand-up comedy show and make sure to sit in the back where the comedian is not able to see any awkwardness and exploit it.
39). If you both are animal lovers, then you can take your partner to the local animal shelter and offer to walk a pair of dogs. Animal shelters are always in need of volunteers, and you can also judge each other's patience.
40). Wine tasting is one of the great second date ideas that allow you to get some free drinks and appear to be cultured at the same time. It will also enhance your knowledge about grapes, bouquets, vintages and, of course, your partner.
41). If you like the rush of adrenaline on your dates, then you can invite your partner to a go-kart race where you can try some hairpin turns. This idea is a part of most using Second Date Ideas list.
42). If there is a part of the city or town that you both have never seen before you can check it out together. You can try the local sights, taste the food and get an idea of how you should navigate the neighborhood.
43). If you live in the countryside, then this is quite easy when you can gaze at the skies when they are clear. This is also a great time to test your astrological skills. Stargazing is also very romantic as you try to figure out as many constellations as you can.
44). Go for a long walk in a scenic area whether it is the beach, a waterfront path or simply a stroll through some wilderness.
45). For foodies attending a food, the festival is a great way to try some adventure. Also, remember that a well-fed person is always happy.
46). Baking some cookies or cake is a great way to make you remember your grandmas. It also gives you a chance to exercise your creativity.
47). Horse racing is another great idea if you love excitement and thrill. You can root for the same horse or different one. Just make sure that you do not bet too high because then losing a large amount of money can mar the fun of the date.
48). If you are planning an all nighter then a close by the camp site can be one of the great second date ideas. Snuggling close to a campfire and munching some pre-cooked food or even cooking in the open air can be quite an adventure.
49). A fashion show is a great way to show off your cultured side and also give you the chance to learn the current trends.
50). Flowers can be quite romantic, and you can take a stroll through a flower market or a large florist store for that touch of the romantic.
51). A book reading or launch is also a great place for literature lovers who can then spend some time over dinner discussing the finer points of the book.
52). A handicrafts exhibition is a great place to judge each other's finer tastes especially if the handicrafts are from an exotic country. It will give you a chance to learn about the country in question and also give you a chance to strike up a conversation.
53). You can get a great chance to add a new look to your home, If you try some sponge painting on one of the room walls with your partner. You can have some fun splashing colors at each other while you discover the painter in you. this is also a great
54). If both of you are environment conscious then you may go on a tree planting drive, provided you take permission of the authorities.
if you don't know how to talk with a girl check out how to flirt with a girl. Oh, Yes Girl loves flirting.
55). Another great social cause that you can champion is to go to an old age home and spend some time together with the not so lucky aged people. This will give you a chance to judge your partner's softer side and also give you an idea whether he has a sensitive and humanitarian outlook.
56). Also spending some time at an orphanage will be one of the great second date ideas because it allows you to play with the unlucky kids and explore each other's finer sides.
57). Nowadays most people are tech savvy and going to a science exhibition will be a great idea. Here you will be able to test your knowledge and learn a lot of wonderful things.
58). A second date is a good time to see how articulate your partner is. Head to a local salsa club and schedule a lesson for the two of you.
59). A karaoke bar is also a good idea where you can have some goofy fun while singing out of tune.
60). A flea market provides an opportunity for an adventure of a different kind, and you can also pick up some inexpensive gifts for your partner.
61). After your first date make a follow-up call to the person after two-three days suggesting that you wanted to meet him or her again.
62). The ultimate goal for planning a date is to enjoy and have fun with your partner.
Here are some interesting questions to ask a guy. You can use these questions to know your boy well.
63). Show your creativity which will allow you to do things together.
64). Maintain your leadership quality by trying to have control over the situation.
65). Always be romantic and gentle to the person but do not go overboard to impress him or her.
Checkout these romantic love saying to make your date more romantic.
66). Your partner might love a little mystery, so don't tell her where you are going and take her for a mellow bike ride, may it be a nice restaurant or a beautiful scenic view.
67). You can take your partner to a small, local brewery where you both will be able to experience something new together without having to force conversation.
68). You can buy some small but elegant things such as a memento from the flea market. Also, you might see some cool things which you might have never seen before. This will give you an endless conversation.
69). Take your partner to a mini golf which provides a perfect atmosphere to chat and flirt with your partner.
70). Take him or her for a live music concert which will give you a great bonding experience.
71). You can plan an outgoing to a lake, seashore or a beach or may it be a park.
72). Go for gallery hopping which will cost you nothing but will give you unexpected excitement and you will have plenty of time for conversation.
73). You can hit a salsa club and enjoy the dancing there.
74). Take your partner for ice skating or roller skating where you two might glide while holding your hands together which draws you closer to him or her.
75). If your partner is interested in having drinks, then you can crawl to a wine bar and order different varieties of wine and sit gossiping together.
76). Taking your partner to a movie is also a great idea that you might have enough time to spend together.
77). You can also date with your partner by visiting to a themed museum which stays open after hours and holds some special events.
78). An old-fashioned radio program party is also a good idea for your second date where you get ready to emulate the eras of yourself.
79). Heading towards a karaoke bar is another good option where you can sing the couple classic duets together.
80). Go to a local library and dedicate some love poems and letters to him/her.
Conclusion of Second Date Ideas:
All these great second date ideas should surely help you to make your second date a special one and show your partner that you indeed are an out of the box kind of person. Doing such things together on a second date will give you the chance to come closer together and lay the foundation of a really romantic and positive relationship. hope all given second date ideas prove helpful for you.