iSkysoft iTube Studio for Mac: In the world of computers, there are huge numbers of people who are Mac Lovers. When it comes to software part, Mac computers are having fewer numbers of free software available for the users.
I am also Apple user. I am using Mac computer for my personal use. I am continuously searching for the software for Mac. While searching Video Download Software for Mac, I come to know about great software called iSkysoft iTube Studio for Mac. This is the complete solution for all the problems related to video downloading for Mac computers.
I have used it for my personal use and then I come to the conclusion that I should write the complete iSkysoft iTube Studio for Mac Review. So I am going to present a detailed iSkysoft iTube Studio for Mac Review in today's post.
iSkysoft iTube Studio for Mac Review
For Mac computers, it is hard to find good video downloader software. There is plenty of software, but when you want fully functional and completely free software, then it is very hard to find. But now look no more when you have iSkysoft iTube Studio for Mac with you. This is completely free software for video downloading for Mac. This software is also having some extended features for the higher priced software.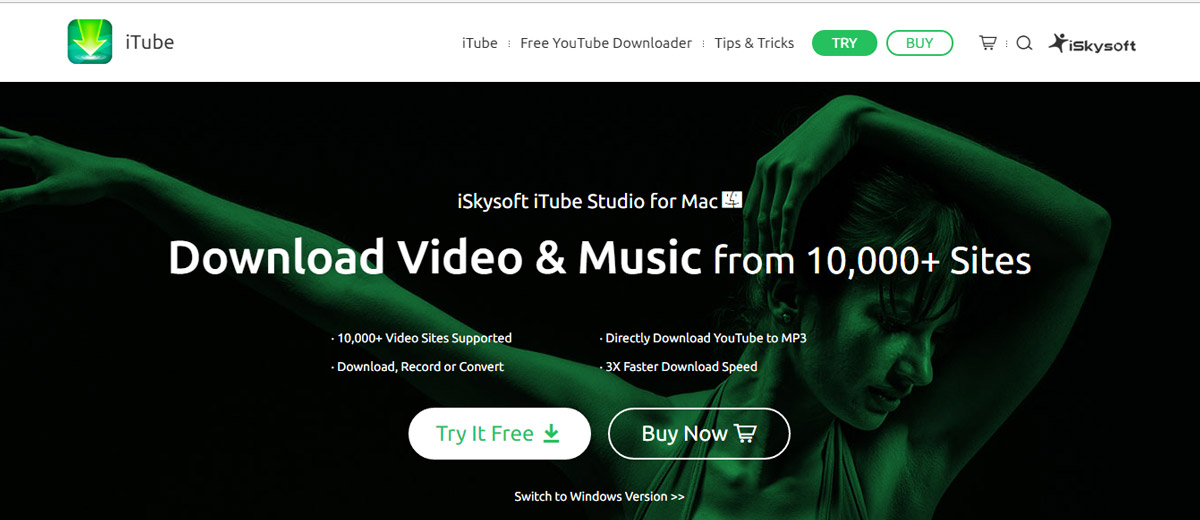 In this software, downloader option is completely free. If you want the extended features like converting videos into desired folder, download video from huge lists of sites, and then you need to go with the priced version of this software.
You can download videos by three ways in iSkysoft iTube Studio.
You will get download button while watching the video. You can press the download button to download any video.
If you want, then you can copy and paste the URL of the video into the iSkysoft iTube Studio, and the download process will begin.
If you want to use drag and drop feature of iSkysoft iTube Studio then you can drag and drop the desired URL into the software and download the video.
Hence in this software, you will get multiple options to download the video.
Best Features of iSkysoft iTube Studio for Mac
1). Easy to Use: iSkysoft iTube Studio is extremely easy to use software on Mac. This is very user-friendly. As I mentioned above, you will get three options to download video on your Mac computer. You just need to do one click to download the video.
2). 10000+ Supported Websites: iSkysoft iTube Studio is great software which supports all most all the video downloading and video streaming sites. You can use websites like Youtube, Facebook, Dailymotion, Vivo, BBC, Vimeo, etc. There is a huge list of site which you can find in the software itself.
3). Quality Videos: While downloading any video, the first concern will be the quality of that video. You can download the video in high quality such as 4K UHD, 4K, 1920P, 1080P, 720P, etc.
4). Fast Speed While Downloading: You will get very high speed downloading this software. The speed will be almost three times as compared to normal speed.
5). Audio Download: Sometimes you may just want to download the audio, not complete video. At that time, you can use this software to extract audio from video and download the audio only.
6). Convert Audio and Video: iSkysoft iTube Studio is not just video downloader software. You can use it for various conversation purposes also. It allows you to convert Youtube to MP4, download video to MP3 or you can even convert your desktop video to any other desirable video and audio formats.
7). Media Player: iSkysoft iTube Studio is having in built media player. With that media player, you can play any video instantly. You will not need any other software to do this task.
8). Browser Extension: You will get browser extension option to download video instantly. In Youtube, you will also get Download All option to download all videos at very high speed.
9). Good Customer Support: The customer support of any product should be good. I have tested the customer support for many times. They are very good when it comes to solve the problems. Along with the customer support, on the website of iSkysoft iTube Studio, they have given all the tutorials and guide on how to use this software properly. I am sure you can find your answer in those guides.
Advantages of iSkysoft iTube Studio for Mac
1). iSkysoft iTube Studio for Mac is great software for video downloading and converting. It can download videos from any site and convert it into the desired format.
2). It also provides conversion feature by which you can make your video which is compatible with iPhone, iPad or other platforms.
3). You can manage all your videos at one place.
4). It works instantly, and you can save your favorites videos at great speed.
5). The user interface of software is very user-friendly. Any new user can learn this software in some time only.
Disadvantages of iSkysoft iTube Studio for Mac
I have not found any major disadvantage while using it. So there is not as such disadvantage of this software.
Pricing of iSkysoft iTube Studio for Mac
The software comes in two license type. You can get personal as well as business license. You can get this software for lifetime on 1 Mac computer for $29. To check other plans check the below image: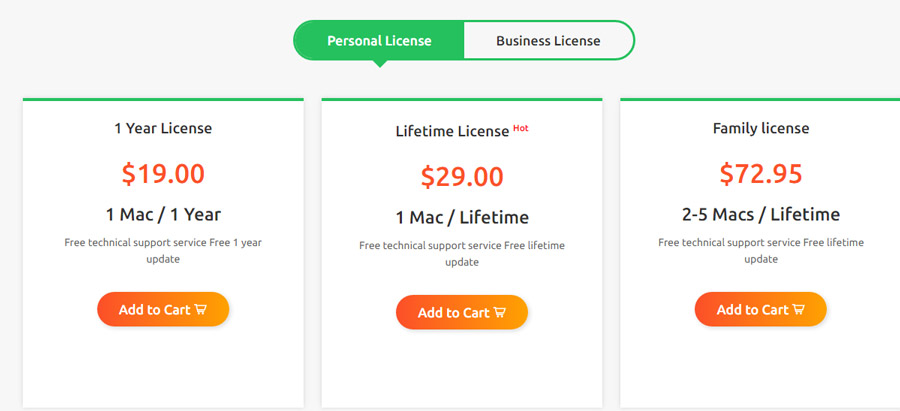 Final Words
I like to tell you some final words before I finish this iSkysoft iTube Studio for Mac Review. As we know that it is hard to find good software on Mac, this is the very good software to try. The free version of this software allows you to download videos only. So I recommend you to check the free version first.
If you are satisfied with free version then only go for the paid plans. You will surely enjoy the great features of iSkysoft iTube Studio.
If you are using this software then let me know your views on the same. Share this post on iSkysoft iTube Studio for Mac Review with your friends to let them know about this great software.