Date Night Ideas: Date nights are the prelude to relationships…and are decisive. They are the key when a relationship is on track or on the contrary, everyone winds up for "their" way. Date nights serve to meet, create affinity, empathy, have fun and discover things in common…and all these triggers will make the date players decide whether they want to go ahead with a relationship or not.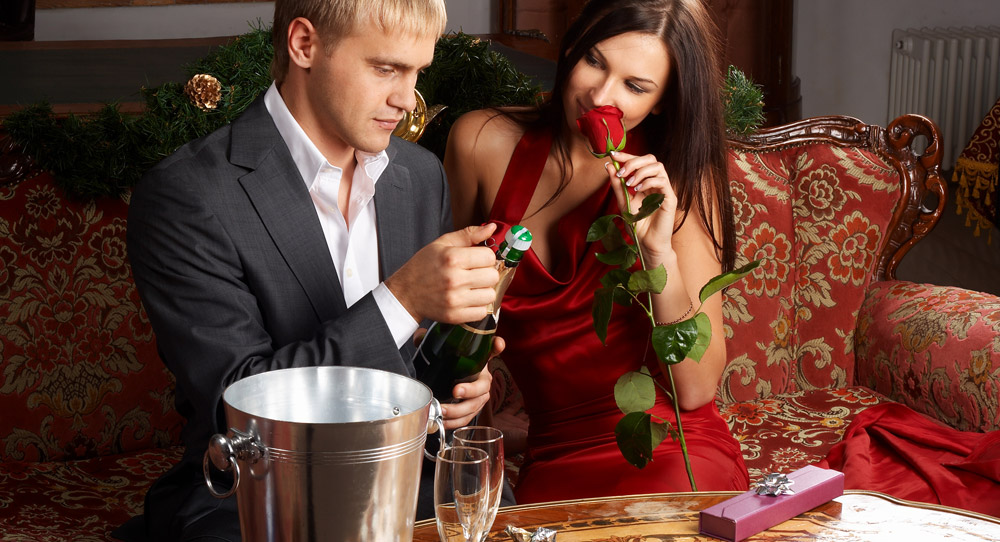 I have developed a list of date night ideas, sorted by categories depending on the taste and personality of the person, to give you date night ideas that may ultimately give you a lot of benefits, but before choosing the type of date, you should take into account a number of rules for these date night ideas that are explained below:
1). It is important to choose the site and activity primarily depending on your tastes and preferences. Choose activities and date night ideas that you feel 100% comfortable with to be at the top and then also accommodate the tastes and personality of the guy/girl you're going out with. Use common sense; find activities you think the two of you are going to enjoy together.
2). Think about the point at which the relationship is. It is not logical that you plan a romantic vacation if you have not yet taken the 2nd cup of coffee together because he/she is likely to think you're unbalanced then and delete your number. This aspect is very important. Then emerges congruency in the date night ideas.
3). The first few dates, ideally, should be in restaurants or quiet bars where you can talk and get to know each a little better. Try to make dates that are pleasant and leave both of you wanting more. Nor should you rush it, it should be for a reasonable time.
4). If you want to be original, you need to differentiate yourself from the rest. Propound to do something different and fun but totally mastered so that you can surprise him/her. Pleasantly breaking the mold of someone with something unexpected is always an extra point that comes in handy at first.
5). You can also propose an activity in which he/she is the expert and show him/her how it unfolds. It can be fun and it'll inflate his/her ego a bit.
And considering these bases, I have a combination of date night ideas where you can choose the places and activities you think are suitable. Let's take a tour of some of these date night ideas:
1). For the lovers of good food
This is one of my favorites. The truth is that this is one of those "date night ideas" that does not take much if you strive to invite him/her to your home. A fun idea is to invite him/her and let him/her help you plan to cook in a self-assured way and without too accustomed to being spoiled. If you prefer that the date is away from your home, a good plan would be to invite him/her for dinner at a restaurant or even both of you can attend a cooking workshop. A good idea is to go to a restaurant where you have not gone before but you both have wanted to try together.
2). For the more adventurous
This is one of those date night ideas that is great if you two like these kinds of activities. The adrenaline rush will be assured and that moment of happiness will make you relate to those good feelings. If you too are a lover of risk, a game of paintball, an amusement park, renting jet skis, a racing car, river rafting, cliff diving, a jump from a helicopter, a ride in a small plane, and a million other things will guarantee that you two have a wonderful day.
3). For those who love art and culture
This is also my favorite. At a time when the relationship with my boyfriend was a little listless and I felt like I could break at any moment, I had the bright idea from one of the date night ideas online to invite him to see an exhibition at the House of Photography in my city. He did not know of that building and came happily there. His exact words were: "The exhibition was horrible, but the date was excellent.
The idea is that depending on your attitude, positive experiences can be drawn even where it seems that there are none. The exhibition was not to our liking, but we just laughed and had a fantastic evening which helped us to find another point in common. Here the date night ideas are very large; a painting exhibition, a photo exhibition, visiting the archeological museum, a talk, a lecture, a presentation of books, a play, etc.
4). For more fun
If your guy/girl is on the constant lookout for joyful activities, let the sense of the ridiculous move to the side and jump to follow the steps. I was always very shy, but when I went out with men who are the center of attention, I was left infected by that spontaneity and I have taken that as a lesson for releasing that part of my personality that cost me more work. If you are chatty and cheerful, you are both going to enjoy very much, and if not, take iit as part of a therapy to get yourself more relaxed. Date night ideas are also many: karaoke, a game of bowling, a game of pool, football, a night of monologs, a night of dancing with choreography etc.
5). For athletes
You will agree with me that for sports fans, there is no better than to plan a day of good sport: go jogging together, skating, a day of canoeing, hiking, climbing or diving. There are plenty of date night ideas; all depends on your tastes and preferences. If you already have more confidence, you can surprise him/her with a trip to a ski resort. There are many companies that are dedicated to doing these types of activity at very reasonable prices. Turn your passion into a chance to know him/her better using one of these date night ideas.
6). For those with a tourist's soul
Tourism enthusiasts also find ways to discover the world without having to travel far or spending all their savings. Your safe city has many charming places to visit: A national park, a gazebo, a trip to a nearby city etc. Visit the most remote villages of the region, a walk through the old town, a historical monument, whatever you can think of. Guided tours offer a different view of the sites you usually encounter because they have details that you usually would not know even if you have lived there all your life. Another one of the date night ideas if you know the history of your city it is to make your own guide and finish the event in a typical bar. You can spend a very pleasant time without having to travel far.
7). For those who prefer the outdoors and animals
Another alternative with many possibilities! You can organize an outing with your dogs if you have them, go jogging with them, a country getaway (if you know sites where there is water, like a river or a waterfall,), a horseback ride, a group of mountaineering people, etc. If you like, you can plan a fishing day where you can take a picnic. If you have the chance, getting on a ropeway or a cable car is a good option that you can use to enjoy the good scenery. A meal in a rural hotel is also a good idea and if you have more confidence, perhaps a weekend in a shelter. A log cabin or a cottage too will delight you. There also tend to be places where there is no problem in taking your pet, so that is an added bonus. You can essentially choose any one of these date night ideas.
8). For the more spiritual
If it pleases you to lead a contemplative life like Zen, then you also have great alternatives today. Staying one night to go see the stars somewhere without pollution is a very good choice (especially those days when there is a rain of stars or some phenomenon out of the ordinary). A bike ride, a meal at a vegan restaurant (so fashionable), tea in a charming tea house where you serve a pasta or green juices or go to Arab baths where you may relax is one of the best plans that you can offer. In addition, you will come out of there with renewed energy and see everything with new eyes. A night on the beach is one of the best date night ideas. Spending the night listening to the sound of the sea is a unique feeling. You can take a few candles to light up the room and make the moment a lot more special.
9). For those fleeing formalisms
For more casual date night ideas, anywhere can become an ideal place for a date. A few beers in a bar, a film in the cinema with soda and popcorn, a rock concert, cocktails in a chill out terrace, ice cream or sweet as you walk down the street, a bike ride or a pizza sitting in the park or the beach at dusk are very good choices where all you need is a smile and two people who are eager to have a great time. In addition, such dates are very gratifying because any simple thing would be welcome which is why this is one of the best date night ideas ever.
10). For the more glamorous
For foodies, there are also many glamorous date night ideas. The only downside is that you have to look deep in your pocket. But if you have problems in that aspect, you can surprise him/her with a meal at the best hotel in town, a horse racing event, a spa session in which you are pampered with the best services, a day on the golf course, a ride boat, a course wine tasting etc. You can also find luxury car rental services or a circuit racing car.
11). For the more romantic
I left for last the main attraction: the romantic (if you find any, tie him to the bedpost). For all the romantics out there, there are no better date night ideas than a dinner with candlelight and romantic background music. For them, the best you can do is making them feel like the protagonist of Titanic, at least. Serenade a little if your guy/girl is very romantic. A small detail, a note, fireworks of a party nearby, a restaurant where you are treated like newlyweds, a one-night hotel where you leave a trail of rose petals…go all out!
There are a thousand date night ideas for surprising him/her. Of course, this option is only if you carry out a while and you're sure the feelings are reciprocated.
You see the offer is varied, and it depends in part on the next date you have and not the last.
Renew yourself, get your essence and show yourself as you are. A date is the best way to get back to feeling like a 15-year-old teenager and make a little trip to the origins, where life was a constant party.
If you have just met someone, here you have a list of date night ideas on how to have fun without spending money or perhaps the least well out of the routine:
1). Try to set a Guinness record.
2). Play the ABC market: see who can find something that begins with each letter of the alphabet. And also, eat a lot of free samples.
3). Go to a free night at the museum.
4). Hold a movie night at home. Make popcorn and slushies at home.
5). Play strip chess.
6). If you are not yet at that point (or near children), play strip chess backward. Each time you lose, put on a garment until you cannot get more on.
7). Build a comet yourselves to fly it in the park or on the beach.
8). Get dressed elegantly and go for a walk at night.
9). Build a fort with blankets. Spend all night there.
10). Enjoy a karaoke night at home. Choose songs for the other, rather than for yourself.
11). Learn to give great massages.
12). Play hide and seek in Snap chat.
13). Have a contest eBay: Put similar items online and see who can make more money with their description and selling skills.
14). Enjoy a full meal of samples from the supermarket.
15). Play truth or punishment.
16). Test drive the car of your dreams.
17). Make a dish and see who can make the best dish with what you already have in the fridge.
18). Take the laptop somewhere and make your own projection film outdoors.
19). Make a false dictionary for use at another time words.
20). Watch YouTube videos to learn cooking skills that none has: how to make crepes, how to poach an egg, etc.
21). Offer to care for the child or animal of a friend.
22). Pick a random place and plan a fully detailed vacation.
23). Have a "false break up" and publish the photos on Facebook.
24). Make your own professional photo studio. Choose the clothes for your partner.
25). Make a game of love in the sheets.
26). Have a telethon that also functions as a training session.
27). Kiss each other for a long time. Preferably in a strong blanket.
28). Play a drinking game with horror movies.
29). Have a contest of jokes.
30). Pretend to be tourists in a nearby city. Take out the kangaroo.
31). Learn a magic trick together.
Do you have more date night ideas?
One of the things that work to keep relationships alive is spending time with your partner on dates. In this day of the information age, it is increasingly difficult to carve out the time to nurture our relationships.
Unless you organize time in your relationship, other less important things will fill the precious little time you have. Choose a night that will be a "love date night" with your partner and make a game be as creative as you can. Try to do many things where you do not have to spend money.
For starters, I've come up with some suggestions to help you during the next year. What follows are some creative date night ideas on creative love dates on how to spend time together without spending money. Feel free to add or modify any of the items in this list of date night ideas so that it adapts to your particular relationship and circumstances.
Date Night Ideas for winters
1). Take a walk to see the Christmas decorations.
2). Play cards – perhaps Strip Poker or Spanish poker.
3). Watch a movie together.
4). Go outside and throw snowballs.
5). Get some finger paints and create your own body art with the other as the canvas.
6). Go sledding or horseback.
7). Go ice skating.
8). Exercise together.
9). Make your own shows of improvisation.
10). Sing to each other.
11). Review or create a photo album or scrapbook together.
12). Any board game – perhaps chess, Scrabble or Twister.
13). Go to a bookstore, get coffee and read for hours.
Does this time of the year make you corny? Yes, many have that vision of the Valentine's Day that is traditionally celebrated every on February 14. But let's be honest, it's the perfect excuse for an unforgettable encounter with our love: no one wants to miss these tricks for a romantic evening…and I bet that none will leave this page without reading them!
For the next Valentines or for tonight or any other night of the year, you must apply these romantic tips to have the best date of your life with your love. And note that sooner or later, you will touch them. Hands to work to the best romantic evening! Here are the date night ideas or tricks, simple but foolproof to spice up your relationship.
1). A Gift
A surprise for your boyfriend/girlfriend in an unforgettable night for two can come in the face of a gift. Especially if this is your intimate Valentines celebration! The best advice to buy the perfect gift? As simple as asking him/her what is needed, or give him/her what he/she likes, from clothes, perfumes, accessories, tech objects, books, your favorite music…You know well, any gift that will delight him/her.
2). Romantic Tracks
Did you think to wrap the gift and give it in his/her hand? You're so boring! I propose that for this romantic evening, play classic hidden treasure. Write several tracks on pieces of paper and hide them. Then go mark for him the way to find your gift. A tip? Make tracks that are romantic: for example, "the next track is among the pages of the book that you gave me on the first anniversary".
3). The Ideal Environment
For an intimate night, it is really fabulous that we should think about every detail. While it is obvious that your boyfriend/girlfriend will not pass your finger across the furniture to see if it shines or if it is a little dusty, believe that a clean, tidy and decorated room for the occasion influences that romantic atmosphere you want to create. The basic rules? Turn off the lights and light candles (if they are aromatic, the better) and put some appropriate music for the occasion with fun themes and an approach to dance.
4). Aphrodisiac Foods
A romantic evening is synonymous with a romantic dinner. But of course, to make sure that the evening is a 100% passionate, you are not going to eat the reheated pizza left over from yesterday, right? Take this opportunity to eat aphrodisiac foods, those foods whose shape, color, flavor and light properties increases the libido and they say, "help us to have better sex" We do not lose anything to try! These include chocolates, oysters, bananas, asparagus, almonds, and the inevitable bottle of champagne to toast.
So, these were some of the date night ideas for you that are sure to make your partner melt and help you spice up your relationship that extra bit more.