Cute Boyfriend Quotes to Make Him Smile with Love: Don't you sometimes feel like showering out all your love on your boyfriend? Well, actually that happens a lot with a lot of girls. But picking up the right words to explain all your feelings is sometimes a big deal. And especially when it comes to the guy you love, you totally go dumb over it. Haven't you ever come out with some cute quotes for you boyfriend ever?
Well, love never fades out until you let it be so. So, the trigger is always in your hands, now it depends upon you whether you want to pull it or not.
And this time you really need to use the trigger of some cute boyfriend quotes to woo him and pamper him. There were are a lot of wonderful ideas regarding it but people are so less likely to shape up their ideas in form of words. But fortunately you would not have to do so because we are here to rescue you well.
You really need this amazing list of cute relationship quotes to say to your boyfriend. You cannot afford to waste any time to express your love to the one it belongs to especially when this feeling is so true and pure. If you know you feel it then leave no stone unturned to show it.
And by keeping that in mind you can use these cute quotes for your boyfriend to make him smile all day long. And why all day? Whenever he will read it again and again he is surely going to smile all the time.
Cute Boyfriend Quotes to Make Him Smile with Love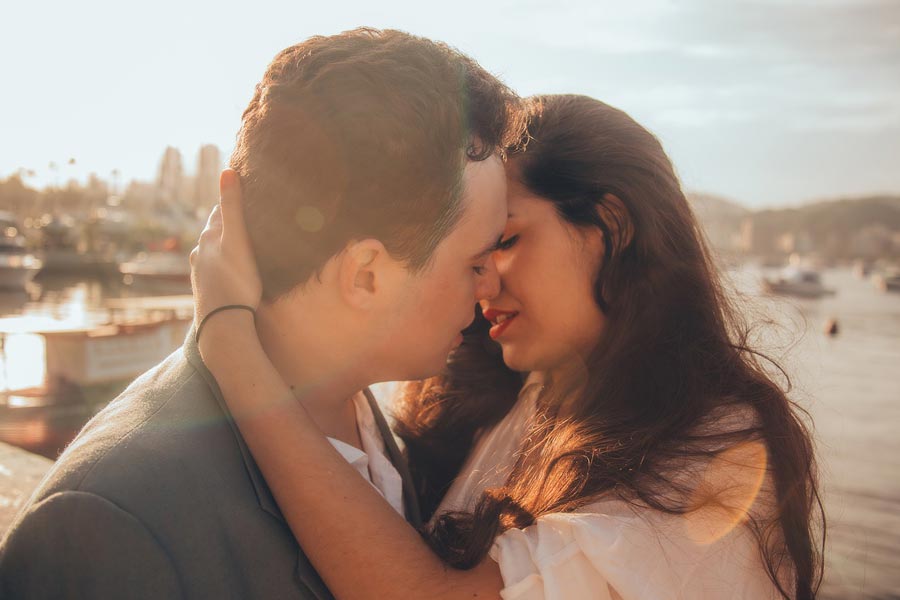 1). You are like my favorite movie. I can watch you for all day long without any pause. And you know what the best part is? I know everything about this movie and I can watch it for my all lifelong.
2). If I had to play something on loop then it would be your voice only. I can never get tired of listening to it and every time I listen to it, I feel like I have started to live a whole new life once again.
3). People say smiling in all situations is the key of a fruitful life. But I say watching you smile is more fruitful for me because it is the reason of making me smile too.
Cute boyfriend quotes are always just perfect to make him smile with the love that you are showering on him.
4). I never knew what it was like to day dream about something. I never knew that you can watch a dream even without closing your eyes. And you know what, you are the dream to me for which I do not have to close my eyes. And though I close my eyes, all I see is you.
5). People can never define love. But if I had to define it for you then I would say that it is like the large ocean. No matter how much you try to take water out of it, it would still be full.
6). Love is like that person who enters in your life and suddenly becomes your life.
Love is something which can be expressed well through the cute boyfriend quotes so well.
7). No matter, how much difficult the path of love is like. If you are with the right person you can eventually reach up to the destination.
8). If I had the chance to start this all over again then I promise I would have still chosen you as my love.
9). In this love that we are together for, I wish if I may not get to see you every day at least you are the one I think about the first in the morning and last in the night.
Thinking about him? Tell him through these cute boyfriend quotes. After all, he too deserves some pampering.
10). Roses may be those who have the best smell but they surely come with the thorns. Just like that I am always gonna protect my rose like those thorns.
11). If I could fly then I would have just flying around on your home and watching over you all the time.
12). True love may not exist in reality but what I have for you is something I am never gonna tired of doing. I am so head over heels in love with you that I get no time thinking about someone else at all.
When you know how to use the cute boyfriend quotes then you can make it up for you guy just like that.
13). If I ever get to make a list of the amazing things ever happened to me then you will always be the one who will top it
14). Random laughs, crazy fights, adorable moments. Love is all about living a dream that you thought would never going to come true.
15). Each day that I see you and meet you, I figure something new about you. I don't know whether it is you who have this much shades or is it me who is going gaga over you.
Tell your guy that he is more than a mystery for you through these cute boyfriend quotes and make him smile all the time.
16). If I could voice every thought that I am thinking then even you would have started blushing right away.
17). People say that chocolates have a great impact than kiss. But I think people have never seen that how you kiss me. I am still drooling over it.
18). I cannot say that what moment it was when I fell in love with you but I just know that whenever it happened, my world totally changed and that too for something better.
You never know that when the love strike to you but you can surely expressed it via cute boyfriend quotes.
19). Sun has never left shining bright, birds have never stopped chirping, river has never stopped flowing and just like that I never stopped loving.
20). No matter for how long I get to stay with the love of my life, whenever he asks to leave I feel like it has been only some seconds that we were together for.
21). A little jealousy is never bad to have. In fact this is the best way to show that how much you fear to see them with someone else.
Isn't he so adorable that whenever he talks to someone else, it makes you go a bit of jealous? Then tell him that how much you love him through these cute boyfriend quotes.
22). My heart is so delicate that it skips a beat every time it thinks about you, and it does not even pump blood but your love all over in my veins.
23). People need air to breathe but I need your love to survive. This is not an option for me but a necessity.
24). Destiny always have it plans working on us. Whenever we think we are never gonna find love, it puts us in front of the love of our life and changes our life forever.
Life is so small, always use the cute boyfriend quotes to make your guy smile and you would surely feel happiness around you too.
25). You know the best happens with us, when we have passed the worst. Little did I know that, life is going to give me you in return of all the problems that I have gone through. There cannot be anything more pleasant than this present.
26). People often ask me that why am I chasing you and I simply say that I am just chasing my dreams.
27). Sometimes my heart gets so much confused. It is connected to my body but always beats for you.
Drooling over your guy? Say it all through the cute boyfriend quotes and let him feel your love pouring over him.
28). No relationship is perfect enough to be given an award or something. But when two people come together and ignore each other's flaws, they can surely face any storms together.
29). No matter how hard the time would be, but whenever you will look into my eyes, you will find the faith in them that reflects how much I trust you.
30). Being safe does not mean living in a square and guarded by guns. But it means living in your arms and feeling your heartbeats forever.
Cute boyfriend quotes would always help you to tell him that how safe you feel around him.
31). No matter what my future is like, I just hope that it has you in every phase.
32). If you are not able to find me anywhere then just close your eyes and feel your heart. You will listen to my name with every beat of your heart.
33). What makes you different from everyone else is the fact that it feels different with you from everyone else.
If you are the girl who never get tired of wooing her guy then cute boyfriend quotes are just the perfect thing for you.
34). If you ever feel like alone then just look right beside you and you will find me there always.
35). Love is not perfect when both of them are mature enough to handle things but it is perfect when their silliness comes together and form the craziest yet pure relationship ever.
36). Love can never happen to those who try so hard to get it, but it happens to those who try hard to give it to others.
The best part of love is that it never gets fade and you can save it from fading with the help of these amazing cute boyfriend quotes.
37). I have a boyfriend who is not just my love but my best friend too. When I lose the love I get the friend and when I lose the friend I get the love.
38). Boyfriends who hold bags, open doors, pull chairs and dare to kiss her in front of everyone are the real man.
39). These are not just the butterflies that troubles my tummy when I see you but this is the entire zoo that hovers over in my body when I see your face.
These funny and cute boyfriend quotes is just your thing if you are one of those silly and crazy girl.
40). There is only one truth for me that I love you and will do that forever.
41). I feel happy when people call me pretty but I feel the happiest when people call me yours.
42). Real men are not those who choose beautiful girls but those who choose such girls who can make their lives beautiful.
Love is all about sending cute boyfriend quotes to your guy and imagine him smiling while reading them.
43). I am ready to do what we did in the start of this relationship so that we never reach an end of it.
44). Love is all about looking at him and thinking how some dreams can turn out to be true.
45). It's hard when we do not get to see the one we love but it's harder when you have to leave them after meeting.
Missing him? Shower your love through these cute boyfriend quotes and make him realize that how much you miss him all the time.
Hand Picked Stuff:
Conclusion
If you have gone through the entire list then you must have make it out that it has all the essence that you have been searching for to convey to the guy you really love. These cute boyfriend quotes are witty, romantic, cute, loving and most importantly they are capable of saying whatever you have in your mind for him.
This compilation is surely what you have not seen before. This is not something which involves a language to flatter him. But it is something that you two share equally and he can relate to it. These cute boyfriend quotes would spread its magic just the way you have thought of it.