How to dominate a man: Hot and kinky sex is the desire of every couple. It not only keeps the things alive and happening but also reflects upon the love life of a couple and makes it healthier.
There is a new trend which has been doing the rounds of internet is how to dominate a man in bed. Guys really like it when their partner dominate them in bed and takes all the commands in their hands.
The regular kind of sex and quickies can make your sex life really boring and dull. The best way to come over this boredom is to experiment something huge in your sex life. This involves use of props, sex toys and most importantly knowing that how to be a Dom. This is not something tricky or complex. And once you will know it then you would totally love this idea.
However, there are still couples who do not like a woman centric sex life. This can be because they are afraid of the change (especially male partner) or it can be because they have not yet discovered the benefits of it. But things will only be clear to you when you will start experiencing them.
You might be interested in checking How to Make Him Miss You (15+ ways).
But the fact is that it is no longer a taboo if a woman wants to know that how to dominate a man. Given below is a complete guide to those entire women who have always wanted to know that how to be dominant. This can totally change the way you two look at each other. You two are surely going to enjoy the perks of letting the woman dominate the man in bed.
What is Woman Dominance?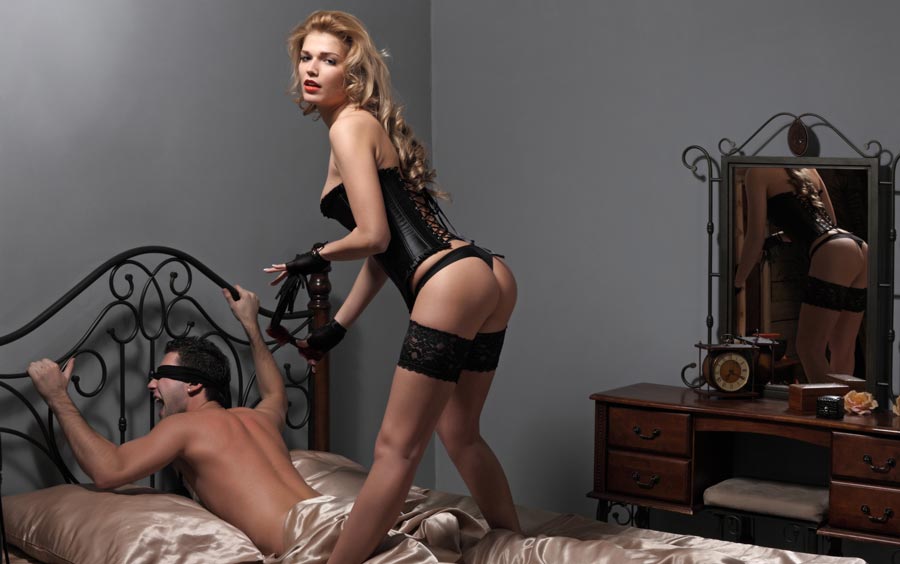 The meaning of woman dominance is not only restricted to how they behave in bed but also consider that how they behave in their lives. It involves their nature, behavior, decision making, showing love and other aspects too. But now, we are only covering the era of a woman being dominant in bed only.
The meaning of woman dominance in bed means all that things that a man used to command are now the business of a woman. More briefly, it is about woman taking all the charges while having sex.
She is the one who is always on top and you can feel a certain kind of force exerted by her. This aggressive and commanding behavior of a woman in bed is known as woman dominance in bed.
Types of Domination
Being a female, if you want to know that how to dominate a man, then you must know the fact that there are different types of dominance too.
These basically depends upon the woman that how she wants to take all the charges on herself. This can be a low key affair or it can be very aggressive too.
I have divided it in three parts to understand it in a better and easier way. Through this description you can understand the concept of dominance even better.
Given below is a complete description of the different types of how to dominate a man in bed-
1). Gentle Domination
Gentle domination is the first step of knowing how to dominate a man. This is the most basic kind of domination that a woman can use to overpower his man in bed and give him sexual pleasure. Its nature and behavior is very low key and it is enjoyed by the couple as unison.
Here are the characteristics of gentle domination:
It involves very basic activities for a woman who wants to learn that how to dominate a man. This is the best kind of dominance for those who are the beginners in it.
You can push your partner against the wall in it. This is an obvious fact that men are much stronger than women. But for a change and to apply women dominance you would have to do the exactly opposite of what you guys used to do earlier.
To understand that how to dominate a man you can talk dirty with him. This is the best way to dominate him as well as to turn him on without even doing much with your hands.
You can pull his hairs softly to show him that who is the boss right now. This always works when you want to show your dominance over him.
Read Next: How to Get a Guy to Ask You Out
2). Moderate Domination
This is the type where we are talking about the genuine type of woman domination inside as well as outside the bed. It is visibly notice even by your friends that who is more dominating between you two. However, there are different aspects of it for different couple.
The characteristics of moderate domination are-
You must go for such type of dominance when you two have been to the gentle type of domination. It will make you feel more comfortable with each other.
In moderate domination for knowing how to dominate a man, you can go for spanking. It means you can gently slap on his butts to show your dominance. You can use props for it.
You can bite him on his neck, ear lobe and on other places but gently, to show who is more powerful tonight.
3). Aggressive Domination
This is the type of domination that you must have seen in the Fifty Shades of Grey. But in this process of how to dominate a man, the girl would be playing the role of Mr. Grey in real. It is the highest level of dominance and must be conceived carefully.
The characteristics of aggressive domination are:
It involves all the essence of BDSM (Bondage, Discipline, Sadomasochism, and Masochism). People still feel it as taboo so must try out them with care.
You can tie your partner in it. All those fantasies of woman in tight black suit and using leather whip on his man turns out to be true in the aggressive domination.
You can also gently chock him a bit or try some unique sex toys with him. You can get all the stuff in any sex toy shop.
Ideas on How to Dominate a Man in Bed
Now that you know all the concepts about woman dominance then now you must proceed to the ideas of how to dominate a man. These are just simple and you must go with the flow to try them out. You are surely going to feel amazing after trying them all and you will witness a sudden rise in your confidence through it.
1). Dress Up Wild
This is the time to put not only your best feet forward but your best dress forward too. If you really want to know that how to dominate a man then you must know that how to dress wild and best. And it is not about you only but make your guy dress up the best too. You can ask him to wear a three piece suit for a sexy touch.
You can wear those leather pants and some lacy and sexy lingerie. Your guy would be totally shocked to see you in such attire. This is surely going to turn up the heat and is enough to dominate your man completely. Your stilettos over his bare chest are going to turn him your slave just for a lifetime from now on.
Read Next: How to Start a Conversation with a Guy
2). Confidence
Confidence is something which is must if you want to know that how to dominate a man. Nothing is going to work at all if you are not going to keep your head and confidence high enough. You must be firm upon every decision you are making and there must not be any looking back to it. Always remember that confidence is the key to own every inch of his body.
If you really wanna know that how to be dominant in bed then you must know that how to keep your confidence level high in front of him.
Confidence not only boosts up your personality but it also makes you look sexier than ever. You can practice it before too so that everything can go smooth enough when you do it for the first time. This can really change a lot of things for you two.
3). Make Him Wait
Being dominant does not mean to do things what you want to do. But it is also about make him wait for the things that he really wants. This can change the total equation of you getting dominant over him. If he wants you to give him a blow job then you must not do it readily. You must make him wait or I would say that make him plead in front of you.
For the perfect answers on how to dominate a man, you must tease him like hell. If you would easily give him what he wants then it will make no sense of dominating him at all. A bit of delay in his desires can actually give you all the commands that you ever wanted.
This is the time to increase not only your make out session but also increase the pleasure of it's too.
Read Next: How to Be a Good Girlfriend
4). A Hot Massage
Instead of giving massage to your man, this is the time that you should ask for it. This is your time to rule over him and it is a crucial step if you want to know that how to dominate a man. A hot massage does not mean for only your pleasure but it declares that who is going to be the boss today.
It can be one very raunchy and sexy kind of attempt to know that how to be dominant in bed. Once he will be there touching you and making you moan then you would have to make your next attempt on him.
You can suddenly push him away and ride over him. Exerting a bit of force also declares your dominance in the bedroom and it will be surely enjoyed by you two thoroughly.
5). A Dominant Sex
This is the most important step for how to dominate a man. You would have to make sure that you do not go wrong with this step especially. For a dominant and kinky sex you can go for the positions who are mainly woman on top. Woman on top positions are women centric and focuses on the especially women.
These positions give you total command and charge over your man. This is the easiest way to declare that you are the one who is dominating tonight.
For this, you can try positions like cow girl, crab position, sybian position and other erotic kind of positions which will help you to rule over him in bed. It will leave your man moaning in pleasure and asking for more. This is where you can tease him a bit.
6). Be Demanding
Don't settle on less when you can get more and more. If you want to learn how to be dominant, then you must act like you are not satisfied with your partner. This would arouse him to fulfill your demands more than ever. No guys want to be proved dissatisfying in bed and you can take advantage of this.
Demanding is not only in terms of satisfying the sexual demands but it is also about the foreplay and other pleasures and needs of a woman. You would have to ask for more and more till your man give it to you.
The first rule of how to dominate a man says that you must not let him relax like earlier times. A rebellious attitude is must when you are trying to dominate your man in bed.
7). Tie Him Up and Tease Him
This is one of the most common steps in the process of learning how to dominate a man. But all the things depends upon the fact that how you carry out this step. Its failure can ruin all the fun and excitement of the night.
You can buy some Velcro straps to tie him. They are washable and easily available too. Instead of these straps you can use the clothes you are stripping to tie him up. It would make it look more steamy and hot.
Once he is tied then you would have to excite him till the peak that leaves him frustrated so damn. When he reaches the peak then you can untie him and he will be the one who will do the remaining stuff. These steps of how to dominate a man is gonna make your sex thousand times more nasty and hot.
8). Express Your Happiness about Dominance
The process of learning how to dominate a man is not restricted to the bed only. It also applies to your day to day life too. You would have to express your views and excitement about it that how happy you are feeling to try it out in bed.
Seeing you happy would make him more comfortable into it and you two are going to have a balanced life. You must keep in mind that your job is to dominate him not make him feel inferior. And it must be restricted to bed only and not in everyday life if he not likes it.
If you two are happy about you ruling the bed then it will provoke him to try something new each night. And when both of you are satisfied with each other then it strengthens your love life too.
9). Practice It
If you are a woman who have never dominated your man in bed before then you must be feeling a bit conscious or nervous about it. Well, it is actually very common to have second thoughts over it. But you can overcome it by practicing it when he is not around.
If you want to master the skill of how to dominate a man then you would have to leave no stone unturned for it.
You can take help from the instructional videos available on different sites for it. You can also read different columns and articles about how to dominate a man. This would help you overall to do it better in your first time. However, after all the study and research if you are not feeling comfortable about it then you should talk to your partner. This is not a compulsion to try it out.
10). Role Playing
Sky is the limit when it comes to role playing a sex where woman is the one dominating over man. There are like thousands or even more than that options available for it. You can create some really kinky and sexy stories in your mind in the leisure time so that you two can portray them in real.
This is one of the most interesting steps of how to dominate a man. This step would not restrict your woman centric sex to the bedroom only. But it would give you chances to explore your entire apartment.
You must pick such stories where the role of woman is always about leading otherwise it will not make any sense. It will keep the sex fresh and more happening even after so many days of togetherness.
11). Do the Unexpected Things
It is the time that you surprise your partner. This is the best essence of how to dominate a man which can work perfectly in your favor. Do something when he is least expecting it. It will increase the chances of your dominance over him.
You can secretly decorate the bedroom with erotic posters and wild sex toys. Do not go for those usual day fragrance candles and flowers. It is the time that you try something new.
Surprise is the best element of knowing how to dominate a man perfectly. You can suddenly ride over him during the sex. This is the best way to prove your dominance over him easily. You can use the woman on top positions for it.
12). Command Him
For a change in the usual chores and stuff you can command him to do something exotic and different. You can command him to give you a foot massage. You must have to make sure that it looks sexy instead of arrogant or rude. You can also command him to gently massage your breasts. It will excite him like hell but he would not be able to do anything further.
Through these little steps you can master the art of how to dominate a man easily. You must not choose the aggressive level of dominance for it but should stick to the moderate kind of domination.
If you guys want to move further then you can choose the aggressive level of dominance for more fun.
13). Keep It Fun
To keep the things subtle yet happening you guys can go for some fun games meanwhile sex. These games are going to keep the things great and fun between you two. For the process of how to dominate a man you must learn that how to dominate him without getting rude.
You can go for games like No touching or Yes Madam. In no touching you will be constantly exciting and provoking your guy to touch you but he cannot do so until you say him to do. And in Yes Madam, he would have to obey you like a pet.
These little games will keep the things fun and happening for the process of how to dominate a man.
Conclusion
One thing that you must know that, this is only good for you two as long as you both are equally interested in it. It must not bother one and please other one. Mutual consent must be a priority if you want to know that how to dominate a man.
You should also erase it from your mind that once you are in it, there is no going back. It should be clear to you that you can stop it anytime you are feeling not so comfortable in it. Bouncing back on the normalcy is not a big deal. So, just keep the things mutual and low key with your partner. All I want to say is just keep calm and enjoy the process of knowing how to be a Dom.